6 Ways to Model a Healthy Marriage for Your Kids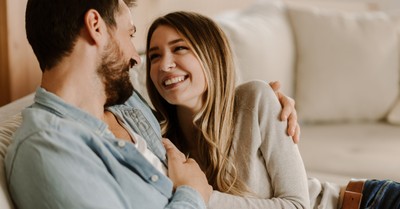 By Heidi Vegh, Crosswalk.com
Our kids learn from us more than we know. They watch our reactions, moods, and how we respond to stress. They imitate us without realizing it, and often we wonder why our kids are the way they are...well, look in the mirror.
When our children live under our roof, we have the gigantic responsibility to train them to be respectable, hard-working adults and how to live harmoniously with the people they live with. Be this their siblings, roommates, and one day a spouse.
If we desire our children to get married in the future, there is no better time than now to model what a healthy marriage looks like. Unfortunately, there is not a perfect marriage. We all fall short, and we all are in desperate need of help. We often carry baggage into our marriage from past experiences and past hurts. Unless you have the precious privilege of marrying young, there will most likely be mountains of difficulty to work through to create a thriving marriage. So, what does it look like to model a healthy marriage that is attainable and possible for our children?
"Marriage was designed by God to honor Him. Our union and our loving one another, is a statement to the next generation of what love looks like and what two people who keep their promise to one another looks like. We have a generation of young people today who desperately need to look into the eyes of their mom and dad and see them loving one another, committed to one another, and honoring God in their relationship. And you do that one step at a time, one day at a time over a lifetime. That's what covenant-keeping love looks like in a marriage relationship." (Dennis Rainey)
1. Say You are Sorry
Modeling humility and forgiveness can be life-giving in our marriage. When we can admit our faults, mistakes, and shortcomings and offer apologies, it speaks volumes into the hearts of our children. Modeling these precious values can teach them to live a life of humility themselves. It teaches them that it is ok to mess up, no one is perfect, and apologizing can free us from unneeded turmoil in our relationships.
Be completely humble and gentle; be patient, bearing with one another in love. Ephesians 4:2
2. Forgive One Another
This is a tough one. We can easily talk about and teach forgiveness, but modeling this can be quite difficult in our marriage. The Lord teaches us that forgiveness is not condoning one's actions but freeing ourselves from the burdens of resentment. When our children see us asking for forgiveness and offering forgiveness in our marriage, it will empower them to do the same in their relationships.
Let all bitterness and wrath and anger and clamor and slander be put away from you, along with all malice. Be kind to one another, tenderhearted, forgiving one another, as God in Christ forgave you. Ephesians 4:31-32
3. Prioritize Time Alone
The age-old adage of putting on your own oxygen mask before helping others. If you are not nurturing the foundational relationship of the family, then when push comes to shove and real issues arise, where will the stability be in the family? It needs to be the marriage relationship that is nurtured first. Prioritize spending time alone, nurturing, and allowing the marriage to thrive. If you are in the stage of parenting with little ones, this can seem impossible. Do what you can. Spend 5 minutes a day doing a check-in and letting the kids know that mom and dad need their time. If you have needy babies that don't understand, then be creative and find pockets of time to check-in or just snuggle. When your kids see this behavior, it will give them a sense of stability in the family, knowing that mom and dad are solid, that the family is solid. This can be challenging, but it will speak loudly to your children when it is prioritized.
Have you not read that he who created them from the beginning made them male and female, and said, 'Therefore a man shall leave his father and his mother and hold fast to his wife, and the two shall become one flesh? So they are no longer two but one flesh. What therefore God has joined together, let not man separate." Matthew 19:4-6
4. Laugh Together
Don't let the mundane day-to-day get in the way of having fun. Joke with your spouse. Play fun games with your kids. Be silly. Tickle each other and make each other laugh. Life can get so serious, so it is good for our children to see that there is much joy to be had during a regular day. When they see you enjoying each other's company, that will model a true and thriving marriage for them. It doesn't mean that there are no problems and struggles, but it will show them that even amidst trials, there is joy.
May the God of hope fill you with all joy and peace as you trust in him, so that you may overflow with hope by the power of the Holy Spirit. Romans 15:13
5. Respect Each Other
As Thumper in Disney's Bambi would say. "If you can't say something nice, don't say nothin' at all." Be respectful. Don't speak unkind words when your spouse isn't around. Show the children that you are on the same team. Speak kind words to each other. Yes, couples fight, and children witnessing conflict and resolution are healthy. However, be aware that your children are watching, always watching. Respect your spouse. Fight fair. Be gracious and forgiving. Say please and thank you and love them the way you want your children to love.
So in everything, do to others what you would have them do to you, for this sums up the Law and the Prophets. Matthew 7:12
6. Serve Each Other
It can be exhausting with all the demands of family to go outside of yourself and serve someone that can do things for themselves. When we serve our spouses in front of our children, it teaches them that it is possible to lay ourselves aside for another person. Marriage is a covenant to help each other be all they can be. Serving can look like a lot of things. It can be simply getting up from the table and getting something your spouse needs. Giving them a night off from bath and bedtime duty. Giving them space to do something they love. Helping them with a project. The list is endless. So think about how you can serve your spouse today. How can you model servanthood for your children in your marriage?
In everything I did, I showed you that by this kind of hard work we must help the weak, remembering the words the Lord Jesus himself said: 'It is more blessed to give than to receive. Acts 20:35
Marriage is hard. It's ok for kids to know that. It is hard but worth it. The young minds living in your home will be bombarded with negative images and messages about marriage; show them the truth. Show them what it means to love someone as you love yourself and how to put someone else's needs above your own.
Photo credit:© Getty Images/Goran13
Heidi Vegh is a writer, speaker, and ministry leader living in Gig Harbor, WA. She is a remarried mother of four, navigating the blended family life after the loss of her first husband to cancer in 2013. She longs to use her writing as a way to encourage others who have experienced loss and guide them on the road to healing. She contributes to her blog found at www.mrsheidivegh.com , sharing stories and devotionals of faith stemming from her loss and healing, mothering, and her blended and complex family. She graduated from Southern New Hampshire University with a degree in Creative Writing and English and is working on her first book. Heidi is the Women's Ministry Director at Gig Harbor Foursquare and has a deep heart for sharing Jesus with women and encouraging them in their faith walk. When she is not writing she loves to travel, read, craft, and experiment in the kitchen. Visit her Facebook and Instagram (@mrsheidivegh) to learn more.
Related podcast:
The views and opinions expressed in this podcast are those of the speakers and do not necessarily reflect the views or positions of Salem Web Network and Salem Media Group.
Read the full article here!