How to Survive as a Single Mom on Valentine's Day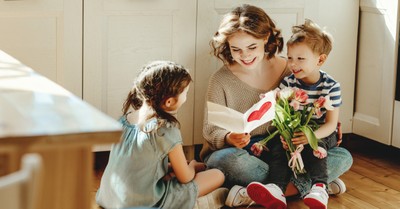 By Rhonda Stoppe, Crosswalk.com
If Laura had to watch one more person receive chocolates or flowers for Valentine's Day at her office she was going to lose it.
When her co-worker, Sue, was gushing over the love note her husband had left on her windshield, Laura smiled while secretly thinking, Okay! We get it. You're in love and you want everyone to know!
It's not that Laura wasn't happy for Sue––she was. Hadn't she thrown her an awesome bridal shower when she got married last year? But despite Laura's happiness for others who seemed to have someone to share Valentine's Day with, she wrestled with the ache in her own heart.
As a single mom of three boys, the last thing Laura had found time for since her husband had left her was romance. And for that matter, the idea of a new relationship scared her to death.
Several years ago, Laura's seven-year marriage had ended abruptly. The separation took her to a depth of despair she never knew she could fall. But now, she was finally moving forward. Even her boys were doing quite well––in spite of having to move out of their comfortable home to the smaller apartment that she could afford.
But she was doing it. She was not a super mom, but she was a good mom. Her life was on track, and she was really okay with where she found herself. She wasn't looking for a man, but still she couldn't help but long for one when Valentine's Day was throwing romance in her face.
Maybe you can relate to Laura's situation. Do you feel like you're the only one without a Valentine this year? Whether you've never married, been through a painful divorce, or lost your husband unexpectedly, you can't help but feel a sense of loss when everyone else is celebrating their own relationships.
Valentine's Day is coming, whether you like it or not. So, what can you do to prepare yourself for this tornado of red and pink hearts, chocolates, and flowers?
Here are a few steps you may want to take:
1. Don't be surprised by the feelings, but do be prepared to speak truth to them.
If you don't take control of your thoughts, they can do a number on your emotions.
In Philippians 4:8-9 the Apostle Paul reminds us:
"Whatever is true, whatever is honorable, whatever is just, whatever is pure, whatever is lovely, whatever is commendable, if there is any excellence, if there is anything worthy of praise, think about these things. What you have learned and received and heard and seen in me—practice these things, and the God of peace will be with you."
Let's just take a moment to ponder where Paul was when he penned these words. He was in prison––remember? Consider the horrible conditions that Paul would have found himself, and yet he stops to remind us that the secret to having God's peace is to take that stinkin' thinkin' by the horns and replace it with thinking on what is good.
Simplistic, you say? I think not. Learning to battle the voice in your head is the key to rising above the emotional roller coaster of your unbridled thinking. And it is the path to peace rather than anxiety in any given circumstance.
So, when you start to feel sorry for yourself because you don't have a Valentine, consider replacing those thoughts with joyful ones of the sweet children you have and how you can bless them with hearts and flowers. (If you're also dealing with a child who is a prodigal, listen to this excerpt for encouragement: Hope For Prodigals)
Other steps you can take to get through Valentine's Day joyfully is to:
2. Plan a night out with single girlfriends
Or if you're on a tight budget, have your friends come over to your house.
Ask everyone to bring a goodie and maybe even some sparkling cider. Decorate some heart-shaped cookies with your kids and watch a fun movie together that will bring a smile to everyone's face.
3. Consider friends who are widowed.
Young or old, Valentine's Day can be particularly hard on your friends who are widowed, so reaching out to them with flowers or candy can be a great way to take the focus off of your own loss and brighten someone else's day.
4. Lastly, be thankful.
First Thessalonians 5:18 reminds us: "Give thanks in all circumstances; for this is the will of God in Christ Jesus for you."
I know you may not feel like giving thanks if you are not looking forward to yet another Valentine's Day alone, but I can promise that if you choose to thank God for your circumstance, you will be walking in obedience to His will for your life.
At women's events where I speak, I often meet women who ask, "What's God's will for my life?"
When I tell them to begin by being thankful because God clearly reveals this is His will for them, they often respond with a list of why their circumstance will not allow them to feel gratitude.
God did not ask us to feel thankful. He said, "Give thanks." So, rather than waiting for your feelings to respond properly––which they seldom do, choose to list what you have to be thankful for. And then, out loud, tell the Lord thank you for each one.
I've had seasons where I have had to force myself to say, "Thank you" to God. And since He already knows my heart, I have admitted, "God, I can't think of one thing to be thankful for in this situation. But in obedience, I will thank you with my lips––please change my heart."
And guess what. God changes my heart. Sometimes ever-so-slowly, but He does change it. And I know He can change your heart too, if you ask Him to. Remember James 4:2 says, "You have not because you ask not."
When was the last time you asked God to give you a thankful heart? A thankful heart is by far better than a paper-cut-out-heart with X's and O's on it, don't you think?
So, this season of schmoopy love poems and valentines, don't list all the things on which you're missing out. Rather, as the old song reminds us:
Count your blessings name them one by one
Count your blessings see what God has done
Oh, and most definitely, treat yourself to a box of chocolates. You might regret the calories, but you can always share them with your kids!
---
Rhonda Stoppe is a pastor's wife, speaker, and author. As the NO REGRETS WOMAN, Rhonda has more than 20 years experience of helping women live life with no regrets. Through humor, and honest communication, she helps women build NO REGRETS LIVES by applying sound teaching from Scripture. Rhonda appears on radio programs, speaks at women's events, MOPs, and homeschool conventions throughout the nation. Rhonda Stoppe's book Moms Raising Sons to be Men is mentoring thousands of moms to guide sons toward a no-regrets life. Her new book If My Husband Would Change, I'd Be Happy: And Other Myths Wives Believe is helping countless women build no-regrets marriages.
Photo credit: ©GettyImages/evgenyatamanenko
Parents: Need Help Navigating Our Crazy Culture with Your Kids? Listen to Our FREE Parenting Podcast!
Christian Parent/Crazy World with Catherine Segars is available wherever you listen to podcasts. Listen to our episode on battling for your kids in prayer by clicking the play button below:
The views and opinions expressed in this podcast are those of the speakers and do not necessarily reflect the views or positions of Salem Web Network and Salem Media Group.
Related video:
Are you in the trenches with your toddlers or teens? Read Rhonda's full article here!