94.9 KLTY, Your Life...Inspired
94.9 KLTY has been part of North Texas since 1985. From the moment we played our first song, we have focused on faith, family, encouragement, inspiration, community and belonging. In fact, KLTY stands for "Keep Lovin' Texas Ya'll" and we do every single day.
Our music brings hope, inspiration and encouragement when you need it most. Our messages are all about joy, happiness, and living a real, transparent life with you.
Start every morning with laughs and encouragement with your friends, Frank, Starlene & Hudson. As you get your workday started, either at the office, on the road or at home, tune into Tony Lopez for inspiration and motivation to get you through your day! As you pick up the kids from school, wrap up your workday, head home or run those errands, tune in to Bonnie Curry, for hope, community and fun! Then in the evening as you relax, unwind, pick up the kids from practice, listen to MaryRose and let her infectious joy bring a smile to your face.
We love you and hope you'll come along side us as we offer you a fun and soft place to land in this crazy world.
It's Your Life Inspired! LISTEN LIVE
---
KLTY-FM DALLAS NAMED RELIGIOUS STATION OF THE YEAR FOR FIFTH TIME AT NAB MARCONI RADIO AWARDS
KLTY-FM Dallas was named Religious Station of the Year at the 2014 National Association of Broadcasters' Marconi Radio Awards. This was their 5th Marconi Award including winning Station of the Year previously in 2005, 2007, 2009 and 2012.
Established in 1989, and named after inventor and Nobel Prize winner Guglielmo Marconi, the NAB Marconi Radio Awards are given to radio stations and outstanding on-air personalities to recognize excellence in radio. An independent task force selected finalists and ballots were sent to members of the NAB Marconi Radio Awards Selection Academy in August. The ballots were tabulated by RSM McGladrey.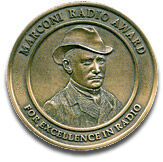 The National Association of Broadcasters is a full-service trade association that promotes and protects free, over-the-air local radio and television stations' interests in Washington and around the world. NAB is the broadcaster's voice before Congress, federal agencies and the courts. NAB also serves a growing number of associate and international broadcaster members. Learn more at www.nab.org.
---
KLTY.COM NAMED BEST BROADCAST WEBSITE BY NATIONAL RELIGIOUS BROADCASTERS
The mission of 94.9 KLTY's website, www.KLTY.com is to be a reliable and outstanding resource for listeners and viewers, providing them with up-to-date, discretionary timely information, live Christian music, station information/events, upcoming local and relevant events, news, contests and more. With more than 2 million visitors annually, KLTY.com has become a daily destination for an ever-growing number of people from all corners of the world. Online streaming also allows KLTY.com to be heard by those across the United States who otherwise may not have access to Christian music or content.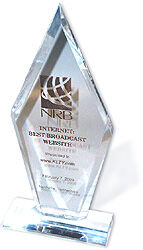 This award honors the internet website of a Christian radio or television station for excellence in design and content, creativity in presentation, and effectiveness of the site in helping fulfill the broadcaster's mission.
[TOP]