"Evening:Morning" A New Beginning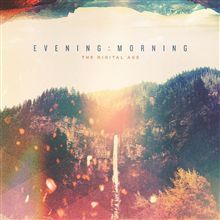 By Ed Cardinal, Crosswalk.com Contributing Writer
Similar to losing a job, The Digital Age is likely to look back at the much-lamented demise of David Crowder*Band and soon enough see the beginning of good things that wouldn't have otherwise happened. Indeed, this is an opportunity. Comprised of Mark Waldrop (voice/guitar), Mike "Mike D" Dodson (bass/keys), Jeremy "B-Wack" Bush (drums), and Jack Parker (guitar), these once worker-bee members of DC*B are full of creative rock/worship expression in their own right as this uplifting and worthwhile debut album, Evening:Morning, gracefully confirms.

For sure, comparisons between The Digital Age and David Crowder*Band are in order; the conceptual theme of rebirth and hopefulness expressed in this set is an informed step beyond the requiem mass vibe of the latter's chart-topping final studio release, Give Us Rest. And brighter tracks like the commanding "Captured," radio rocking "Symphony of Grace," and techno popping "Glow" do have that fit-for-a-Passion-conference familiarity that may soothe withdrawal symptoms among DC*B fans. But, in fact, we aren't even to the good stuff yet.

Most telling on Evening:Morning is that the members of The Digital Age have played together for years and carry the confidence of having rocked arena stages many times over. The group's take on "All the Poor & Powerless," first recorded by All Sons & Daughters, seemingly doubles in strength what was already a powerful song and marks the point where Waldrop becomes a convincing lead singer. "Break Every Chain" creates another big worship moment with ease.

What's more, The Digital Age is at its best when breaking free from traditional songwriting confines to earn its alternative label and further prove these guys speak their own musical language to one another. "Your Name (We Shout)" goes from praise anthem to next-level epic when a stunning two-minute jam is tagged to the end. Erupting like a slow motion volcano, "Overcome" plays a similar freestyle card with an ethereal fadeout to inspire meditative worship.

"Through the Night" best combines catchy and cool—folk and European influences reminiscent of OK Computer era Radiohead. "Morning Song" mixes chirping birds and layered voices, guiding the listener into another day of God's new mercies to close the record.

If there's anything to critique, The Digital Age hasn't quite matched the impact of its lyrics to its playing. The abundance of nature imagery fits the Evening:Morning concept more often than not, but so far the music is speaking louder than the words.
Page Source (url):
http://www.crosswalk.com/culture/music/evening-morning.html