Music Review: Tenth Avenue North, "Over and Underneath"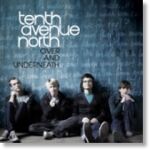 By CMCentral.com

The highly anticipated Tenth Avenue North debut is getting massive buzz, and provoking astronomical myspace hits with their lush pop rock sound. Lead vocalist/guitarist Mike Donehey states the band mission is to "know Christ and make Him known," explaining their very directly vertical lyrical orientation, but their thoughtfully arranged soundscapes will open doors easily for their melodic message.

First single "Love Is Here" opens to gently glimmering guitars before bursting into the hooky guitar-driven pop chorus. Absolutely no ambiguity in these salvation-directed lyrics: "Love is here/ Love is now/ Love is pouring from his hands, from his brows/ Love is near, it satisfies/ Streams of mercy flowing from his side." The overt adoration continues with the lush pop of "Lift Us Up To Fall" and the pulsating "By Your Side," acoustically lovely. "Let It Go" bounces a bit harder, still very radio-friendly, covering the promises of God to those who let go of their own lives. Thick guitar chords drive the appealing vocals of "Break Me Down" while the power clearly lies in the straightforward vocal of mid-tempo piano track "Hold My Heart." Donehey's voice is solid but he also hits a deep sincerity that adds to the effectiveness of these warm worship tracks.

I enjoyed the quietly acoustic ballad, "Times," its hushed vocal communicating deep yearning, nicely underscored by sensitive strings. The lushly arranged "Beloved" explores the mystery of our love connection with the Lord as it runs ahead of the beat, while reverent song of surrender "You Are" is richly ambient and melodic. The upbeat worship track "Satisfy" declares "You're beautiful/ more beautiful/ more than all this world can give/ You're beautiful/ more beautiful/ Your love is all I need to live." Thanksgiving flows like a warm river through the verdant soundscape of closer "Hallelujah," bringing Over and Underneath to an end before you're ready, a good sign from this promising young band.
_______________________________________________________________________________
Used with permission, CMCentral.com