Music Review: Matt Maher, "All The People Said Amen"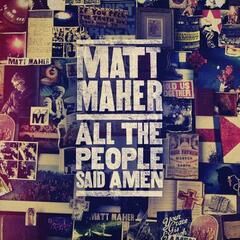 By Ed Cardinal, Crosswalk.com Contributing Writer
"I want to remind you that the same power that raised Jesus Christ from the dead, it can resurrect your heart tonight!" says 38-year-old singer, songwriter, and worship leader Matt Maher at one point during All the People Said Amen. A stirring collection of eight hits performed live and interspersed with five new cuts (four in studio, one in concert), it's a surefire fan pleaser as well as a solid introduction for first-time listeners.
If you were to judge a book by its cover, Maher, with his gray hair, glasses, and practicing Catholic distinctions, could presumably be a low energy, more meditative performer. That isn't the case at all here. The newly recorded opening title track—instantly memorable and radio ready—is rooted in American rock sensibilities and Christian pop emotiveness, sort of like Train colliding with MercyMe.
Proven favorites "Alive Again" and "Hold Us Together" have the crowd's full sing-along attention, as if U2 or Bruce Springsteen were commanding the stage with these anthems from somewhere deep in the heartland.
Studio selections "Burning in My Soul" and "Lord, I Need You," written with members of Chris Tomlin's band, Christy Nockels, and Kristian Stanfill, do indeed earn favorable comparisons to the music coming from the Passion movement. In fact, the latter—a modern day rewrite of the hymn "I Need Thee Every Hour" with a Third Day feel to it—should elevate Maher to similar airplay success.

Speaking of Third Day, Maher seems to share similar influences with the Georgia band. "Great Things, with its slide guitar and hints of California country, favors The Eagles and Jackson Browne. "On My Way" is straight up bar band blues with a growly preacher man message; it flat out rocks.
Maher does dip further into church tradition on "Adoration," putting music to the words of St. Thomas Acquinas, and the closing number, a cover of Paul Wilbur's "It Is Good," is well steeped in joyful Jewish roots.
The word "amen" is defined as hearty approval, and there's no doubt that people will heartily approve of bold message and music within All the People Said Amen.
*This Article First Published 5/29/2013
Page Source (url):
http://www.crosswalk.com/culture/music/i-amen-i-meets-with-approval.html