Music Review: Newsboys' "Restart" Needs No Do-Over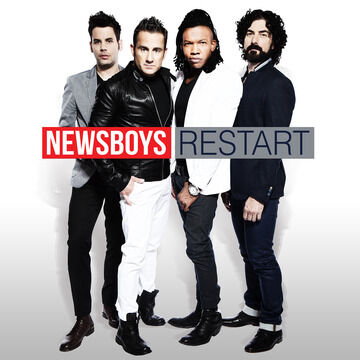 By Ed Cardinal, Crosswalk.com Contributing Writer

Newsboys deserve our respect for merely continuing to exist. The radical front man switch from founder Peter Furler to former dc Talk member Michael Tait was a bold move that has proven successful as the band remains strong in ministry and signed to a major label, still charting hits and drawing crowds at every turn in a music industry also rocked by change. Well done, indeed.

But there's something a little too "really?" regarding Tait's perspective on Restart, his third album with Newsboys. He says, "We've pushed the music and taken it further than we've ever taken it before. I have not felt this way about anything I've been involved in musically since Jesus Freak."

To be clear, Restart doesn't have nearly the spiritual exploratory depth, nuance, or relative innovation of that multi-platinum landmark, but it's a solid set of faith-affirming songs for diehard fans and will be a good alternative for younger listeners who like mainstream pop music but don't need to be anywhere near its often destructive lyrical content.

Perhaps talk of envelope-pushing comes from the fact that Restart is far more electronic up front than previous Newsboys efforts. "That's How You Change the World" is an attention getter with its dubstep chorus and T-Pain vocal tricks. Besides sounding like it jumped out from a 1980s video game, the title track—a clever ode to God's grace—echoes current European hit maker Zedd; there's no doubt keyboardist Jeff Frankenstein and drummer Duncan Phillips had fun stretching their programming and syncopation muscles here.

Guitarist Jody Davis finally makes an obvious appearance on early audience favorite and 1 Corinthians 13-inspired "Love Like I Mean It", bringing back the rock that more clearly defined Born Again and God's Not Dead. "Live with Abandon" chases a higher calling and returns to the electro-dance vibe, also adding some worship flavor to the mix. "Go Glow" feels made for youth group gatherings and would fit right in on a playlist with Britt Nicole and Owl City.

Restart restarts itself with "That Home", an out-of-nowhere, sentimental piano ballad that works well alone but really breaks the flow of the set. Save for the frenetic rocker "Fishers of Men" and standout closing anthem "We Believe", the energy that stirred the top of the album is never fully regained.

Ultimately, Restart doesn't need a do-over. There are hiccups, but Newsboys should (and no doubt will) carry on.
*This Article First Published 9/18/2013
Page Source (url):
http://www.crosswalk.com/culture/music/newsboys.html