STONEGATE CHRISTIAN ACADEMY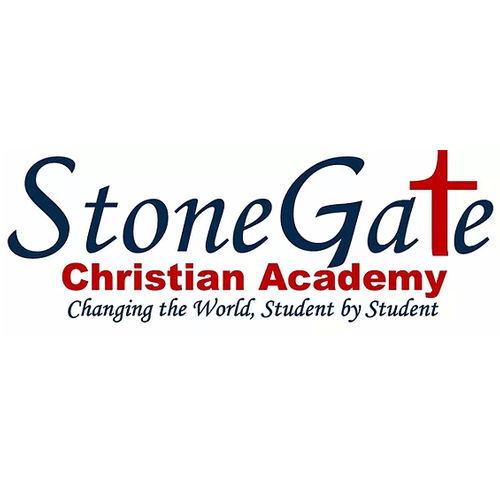 1705 Esters Road • Irving, TX 75061 • 972.790.0070
About StoneGate Christian Academy
StoneGate Christian Academy has successfully operated grades K4 through 12th grade since 1976. Each year, more than 90% of our graduates go on to attend college. The Academy began in 1976 as a ministry of Shady Grove Church, until April of 2005 when the school became an independent 503(c) organization under the name of StoneGate Christian Academy. The school is currently governed by a Board of Trustees.
At StoneGate Christian Academy, we strive to challenge all our students to meet a higher academic standard in their core subjects, while also assisting students in being well-rounded by offering a fine arts program that is competitive and award-winning. In all levels of academics, we keep a Biblical focus, incorporating the character of Christ and His teachings in our curriculum. (more)
Total Vouchers Available:

2

2022/2023 Tuition
Grades
Annual Tuition
Discount Tuition
Pre-K/Kindergarten

$ 7,074

$ 4,952

Elementary (1-3)

$ 7,362

$ 5,153

Middle School (4-6)

$ 7,633

$ 5,343

Junior High (7-8)

$ 7,931

$ 5,552

High School (9-11)

$ 8,606

$ 6,024

Seniors (12)

$ 8,748

$ 6,124

* For more information and to purchase a voucher, please contact Easy Ezell at: [email protected]
---
READ: Terms of Agreement
Each tuition voucher is valid for the tuition cost for attendance at the specified school for the 2022-2023 school year (Fall through Spring, not including Summer School). All other costs of attending the school, including but not limited to books and supplies, uniforms, and fees to participate in sports or events, are not covered by the voucher and are the responsibility of the student and his or her parent or guardian. Only one voucher per school may be purchased or used by a household or family. Vouchers are not available for purchase if your family has already applied to the school, or if the intended student or another child in the household attends the specified school. Purchase of a voucher does not guarantee admittance for a student to the specified school, and the student must meet all school admission, attendance, and conduct requirements to enroll and attend throughout the school year. The voucher is not returnable or redeemable for cash, except if a school confirms to STATION that a prospective student with a voucher completed all application requirements, but was not admitted to the school, in which case upon request by the voucher purchaser STATION will refund the cost paid to STATION for the voucher. The voucher purchaser should consult with his or her tax advisor concerning the tax treatment of payment of tuition using the voucher.