— Video presentation by Restored Hope Ministries —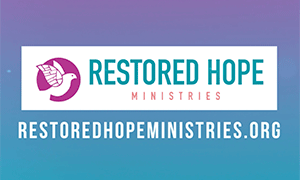 Restored Hope Ministries
Mission Statement
To rescue, restore and heal women and their children to normal lives who have been affected by the adverse conditions of life that include sexual exploitation and trafficking, human slavery, sexual abuse, poverty, domestic violence, and interaction with the criminal justice system.

833-334-0035
Our Program
The Restored Hope Ministries one year program consists of housing, food, and all basic necessities required for their protection and security. The program is divided into two phases: Restoration and Empowerment.
1-Year Live In Program
Food/Clothes/Shelter
Children Housing
Assisted Medical & Dental
Nicotine Discontinuation
Legal Consultation

Counseling/Mentorship
Financial Courses
Computer Courses
Bible Studies
Celebrate Recovery
---


COPYRIGHT© 2021, ALL RIGHTS RESERVED. A SALEM MEDIA GROUP STATION.