FRESH PRODUCE DISTRIBUTION AT OAKS CHURCH BEGINS THIS WEEK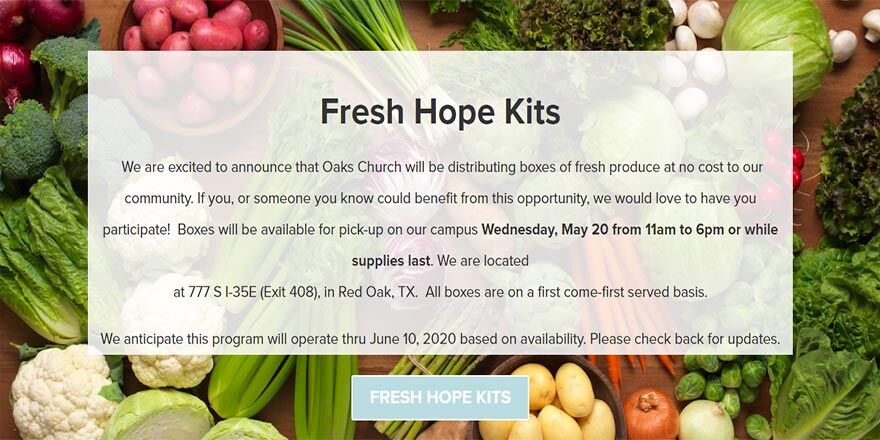 11:00 AM on Wednesday, June 3
Repeats every week on Wednesday at 11:00 AM, through June 10.
Regional Partnership Allows for Rerouting Of Produce Directly To Consumers
While disconcerting headlines abound in the midst of a global pandemic, many responses to the associated challenges are inspiring hope. One such response is the distribution of Fresh Hope Kits, boxed, fresh produce provided at no cost to participants. Oaks Church is distributing the Fresh Hope Kits, beginning this Wednesday, May 20, 2020, from 11am to 6pm, or while supplies last. All kits are on a first come, first served basis. Distribution will continue every Wednesday through June 10, 2020, and beginning next week kits will also include dairy. There is no prerequisite or obligation involved to receive a Fresh Hope Kit, and the community is invited to participate.
Located at 777 S I-35E in Red Oak, TX, Oaks Church is entering into its 100th year in the south Dallas area and is ready and well-staffed to accommodate the community members who participate in the distribution program.
For further information about Fresh Hope Kits or other Oaks Church opportunities, visit them online at oaks.church .