Dear Couples, is This a Vengeful Argument or Healthy Discussion?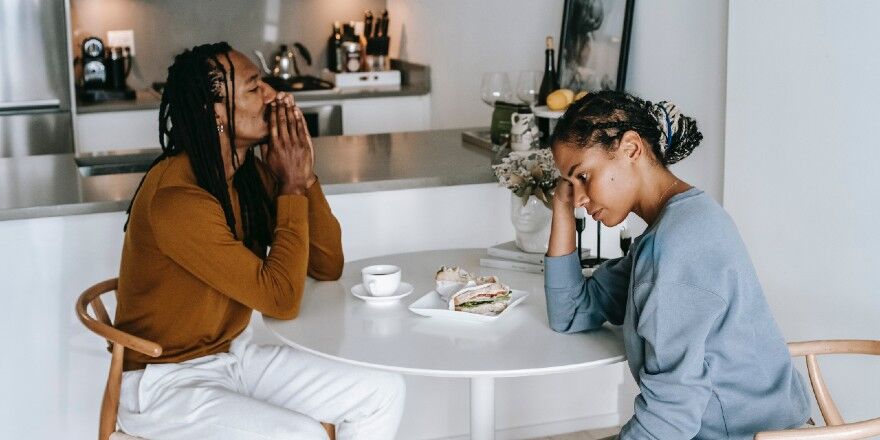 By Jen Jabbour, iBelieve.com
Last fall, my husband and I celebrated our 20th wedding anniversary. We got married when he was just 20 and I was 22. Like most marriages, we had our ups and downs in the first few years. There were many times he was not my favorite person; and I have many moments I'd like to pretend didn't happen.
Even though we both had committed to living a life centered on God, we were still just two imperfect people trying to live together in perfect unity. There's no such thing as a perfect marriage, but if you entrust your relationship to God, and both people make an effort to focus on God, He will turn it into something beautiful (Ecclesiastes 3:11).
We live in a broken world, and when two broken people attempt to build a life together, they're going to encounter trials of all kinds. Thankfully, God gives us all that we need to have a fruitful marriage that honors and glorifies him. The words that we speak to each other and the intentions behind those words are imperative to the success of our marriage, especially when we disagree - because, let's be honest, we won't always agree on every issue.
There are two ways we can approach conflict - we can discuss the issue to find a solution, or we can argue until one person is worn down and bends to the other's wishes. After over 20 years of marriage, I think I finally understand the difference between an argument and a discussion. I wish I had discovered this earlier in my marriage. Instead, my young husband and I frequently turned even the smallest disagreement into an emotion-fueled shouting match that often ended up in careless words being flung about, leaving behind bruised pride and hurt feelings.
What's the Difference between a Discussion and an Argument?
When trying to perceive if our conversation is a discussion or an argument, it helps to discern the intentions of the hearts of those involved.
In a discussion, there's a strong desire to determine what's right, and a mutual respect for each other. Both people are willing to explore all options and hear each other out in order to find a solution that is fair and reasonable. In other words, you each set aside your own needs, wants, and feelings to ensure the other person is safe in the conversation, with an ultimate goal of growing closer together.
In an argument, there's a strong desire to be right, and respect for one another tends to fly out the window. Each person strives to voice their opinions using defensive and sometimes manipulative tactics, not caring much about their partner's thoughts and feelings on the issue. One or both parties are mostly looking out for their own needs, wants, and feelings, not really concerned about the safety of the other person, with the ultimate goal being that they be heard and get their way.
When both people insist on directing the conversation with the intention of benefiting themselves, it becomes heated quickly, and each person will walk away hurt.
When both people determine to respect each other for the sake of their marriage, with an ultimate goal of finding a solution that benefits both people as well as their relationship, they're able to calmly discuss the issue and come to a mutual resolution.
Arguing Can Destroy Your Marriage
Arguing with my husband has never felt good. Hurtful words are flung around, the air is heavy, and the whole process is exhausting. It's as if we've gone to battle! That's because every time we choose to argue with our spouse, we are in a battle! We do not battle against flesh and blood, but against spiritual forces! (Ephesians 6:12)
"If you bite and devour each other, watch out or you will be destroyed by each other." (Galatians 5:15 NIV)
The enemy doesn't want you to have a productive discussion that allows you to grow together, strengthening your faith and relationship with each other and God. No, he wants to shoot every possible arrow at you until you break down and your marriage falls apart. I imagine how much joy it must bring him whenever a married couple fights and argues.
There's enough in this world working against wholesome marriages, and arguing only exacerbates those issues. When we approach conflicts in our marriage with a fixed mindset, it makes it difficult to maintain a calm, productive discussion.
"If a kingdom is divided against itself, that kingdom cannot stand. If a house is divided against itself, that house will not be able to stand." (Mark 3:24-25 NIV)
Intentional Discussion Has the Power to Strengthen Your Marriage
Cultivating calm discussions, with the purpose of finding resolution and growing together, results in unity between you, your spouse, and God.
"Many times God uses our spouse as sand paper to smooth out areas in our life that don't reflect Christ. It has often been said, "Marriage is not about happiness; it is about holiness. And when we are holy, then we will truly be happy." In marriage, we enter the ultimate accountability relationship, which is meant to help us grow as God's children (cf. Eph 5:25-27)."
Nonetheless, conflict will arise in our marriage, and if we strive to use those conflicts to mature in our faith, not only will we grow, but our marriage will grow, too.
"Let all bitterness and wrath and anger and clamor and slander be put away from you, along with all malice. Be kind to one another, tenderhearted, forgiving one another, as God in Christ forgave you. Therefore be imitators of God, as beloved children. And walk in love, as Christ loved us and gave himself up for us, a fragrant offering and sacrifice to God." (Ephesians 4:31-32; Ephesians 5:1-2 ESV)
Why Do Our Well-Meaning Discussions Turn into Arguments?
We Are Selfish and Self-Seeking - "For where you have envy and selfish ambition, there you find disorder and every evil practice." (James 3:16 NIV)

We Let Pride Control Us - "Pride goes before destruction, a haughty spirit before a fall." (Proverbs 16:18 NIV)

We Keep Running Our Mouths - "Fools find no pleasure in understanding but delight in airing their own opinions." (Proverbs 18:2 NIV)
10 Ways to Keep the Healthy Discussion and Ditch the Argumentativeness
Prepare Your Heart
"So prepare your minds for action and exercise self-control. Put all your hope in the gracious salvation that will come to you when Jesus Christ is revealed to the world." (1 Peter 1:13 NLT)
Choose Your Words Wisely
"The words of the reckless pierce like swords, but the tongue of the wise brings healing." (Proverbs 12:18 NIV)
"Do not let any unwholesome talk come out of your mouths, but only what is helpful for building others up according to their needs, that it may benefit those who listen." (Ephesians 4:29 NIV)
Control Your Emotions
"A hot-tempered person stirs up conflict, but the one who is patient calms a quarrel." (Proverbs 15:18 NIV)
"Fools give full vent to their rage, but the wise bring calm in the end." (Proverbs 29:11 NIV)
Always Show Respect
"However, let each one of you love his wife as himself, and let the wife see that she respects her husband." (Ephesians 5:33 NIV)
Be a Good Listener
"Everyone should be quick to listen, slow to speak and slow to become angry, because human anger does not produce the righteousness that God desires." (James 1:19-20 NIV)
Be Humble
"Do nothing from rivalry or conceit, but in humility count others more significant than yourselves. Let each of you look not only to his own interests, but also to the interests of others." (Philippians 2:3-4 NIV)
Willingly Admit Your Faults
"Therefore confess your sins to each other and pray for each other so that you may be healed. The prayer of a righteous person is powerful and effective." (James 5:16 NIV)
Let Forgiveness Be Your Mantra
"Pay attention to yourselves! If your brother sins, rebuke him, and if he repents, forgive him, and if he sins against you seven times in the day, and turns to you seven times, saying, 'I repent,' you must forgive him." (Luke 17:3-4 NIV)
Move Forward - Do Not Hold Grudges
"Do not take revenge, my dear friends, but leave room for God's wrath, for it is written: It is mine to avenge; I will repay, says the Lord. On the contrary: If your enemy is hungry, feed him; if he is thirsty, give him something to drink. In doing this, you will heap burning coals on his head. Do not be overcome by evil, but overcome evil with good." (Romans 12:19-21 NIV)
Make a Pact To Love Each Other As God Loves Us
"Love is patient, love is kind. It does not envy, it does not boast, it is not proud. It does not dishonor others, it is not self-seeking, it is not easily angered, it keeps no record of wrongs. Love does not delight in evil but rejoices with the truth. It always protects, always trusts, always hopes, always perseveres." (1 Corinthians 13:4-7 NIV)
"Bear with each other and forgive one another if any of you has a grievance against someone. Forgive as the Lord forgave you. And over all these virtues put on love, which binds them all together in perfect unity." (Colossians 3:13-15 NIV)
Conflict and disagreements will continue to plague our marriages, but if we learn to seek peace and unity in how we speak to our spouses, especially in times of conflict, our marriages will be able to fend off the enemy's attacks. Rather than looking out for our own selfish interests, let's try to find resolution through humility, love, and forgiveness.
Let us seek to be good stewards of our marriages by modifying how we approach disagreements, learning how to work through our conflicts by implementing healthy discussion instead of destructive arguments.
"Be completely humble and gentle; be patient, bearing with one another in love. Make every effort to keep the unity of the Spirit through the bond of peace." (Ephesians 4:2-3 NIV)
Jennifer Jabbour resides in the scenic San Diego countryside with her husband, teenage son and daughter, and their hilarious English Bulldog. Jennifer has a B.A. in Integrated Business Communications and a life-long desire to share her faith with others so they can also experience the joy of having a relationship with God. She has finally decided it's time to go after her lifelong dream of writing and publishing her first book, and hopefully many, many more thereafter. Besides being a writer, Jennifer is also a brown belt in Brazilian Jiu Jitsu, a photographer, and an avid outdoors-woman. She loves camping, hiking, running, and playing the piano in her free time.
You can keep up with Jennifer on her website https://www.jenniferjabbour.com.