Living in Pursuit of God's Glory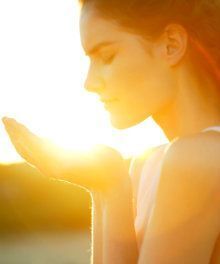 By Kristen Leigh Evensen, The Identity Project
Flame-grilled burgers and theology.
To say that those two components make up an ideal date night might sound surprising to some people, and perhaps even lame to others. But as for my fiancé and me, the dishing out of great food and the unfolding of even richer conversation about God often results in the perfect date night combo.
Nourish the body. Nourish the soul.
One of our more recent date night conversations revolved around the events of the believer's salvation. I posed questions like, "If God chooses us – and we don't choose him – then how does faith come into play?" and, "What does it mean to say we have been saved by grace through faith?"
The enormity of such questions boggles my mind, making me realize that I will never have all the answers. By the end of our dining and discussion, I had concluded a paradoxically simple, yet complex, reality: God rules justly and lovingly over creation and does so to glorify himself. He does whatever he pleases. His sovereignty is great and unfathomable. We, as his children, are given the wonderful, undeserved gift of a new purpose: pursuing his glory in everything we say, think and do.
Regarding God's sovereignty, I consider his answer to Job's many "why" questions, understandably posed after the faithful, godly man is afflicted on every side by Satan – and at the permission of God. God replies: "Who is this that darkens counsel by words without knowledge? Dress for action like a man; I will question you, and you make it known to me. Where were you when I laid the foundation of the earth? Tell me, if you have understanding. Who determined its measurements—surely you know!" (Job 38:2-5).
I wonder what Job's posture must have been during God's answer. Though we can only speculate what his body was doing, we are told his verbal response: "Then Job answered the LORD and said: "I know that you can do all things, and that no purpose of yours can be thwarted…Therefore I have uttered what I did not understand, things too wonderful for me, which I did not know…therefore I despise myself, and repent in dust and ashes."
When we experience, see and read of God's glory – whether we are reading our Bibles or talking about him on date nights – our response should look like Job's. We understand that we never deserved salvation, so we "repent in dust and ashes."
But we also worship and rejoice that the great God who saved us has lovingly re-purposed our lives to pursue his glory for our ultimate joy!
Yet--
We often find ourselves consumed with the external cares of this world, investing our time, thoughts, and energy on selfish gain, vain conceit and worrying about the future. We spend our time and money focusing on temporary pleasures that will not last. We grasp at anything and everything to satisfy us and make us content. We deem man's opinion so much more important than God's.
We somehow make our own glory bigger, and the Creator's glory smaller.
This inwardly-focused and self-glorifying perspective runs contrary to our new nature as Christians. It is not who we truly are in Christ! Paul writes of this identity reorientation and perspective shift in Colossians 3:
"If then you have been raised with Christ, seek the things that are above, where Christ is, seated at the right hand of God. Set your minds on things that are above, not on things that are on earth. For you have died, and your life is hidden with Christ in God. When Christ who is your life appears, then you also will appear with him in glory."
"Seek the things that are above, where Christ is" is a command for our ultimate good. When Christ is at the center of our focus, then God's glory is what we pursue—and not the fleeting pleasures of the world, our unresolved problems, our unsettling circumstances, nor the unanswered questions we may have.
Why does God call us to pursue his glory? "…you have died, and your life is hidden with Christ in God" (v.3). When Jesus defeated death on the cross, he broke the power of sin over our lives. We became a new creation when we trusted in Christ's justifying work, and so we have died to our old selves. Our lives are freed from bondage to sin to now please God. He calls us to glorify his greatness because our joy depends on it – and he loves us enough to bring us ultimate joy and satisfaction in himself!
So practically speaking, what does it look like to pursue God's glory? We can talk about the Lord's glory over dinner-and-a-date all we want, but there is an active pursuit of it that must also take place. God's Word is truth, providing us with the wisdom to live Christ-centered lives. Here are some thoughts on how we can daily pursue God's glory:
Put on then, as God's chosen ones, holy and beloved, compassionate hearts, kindness, humility, meekness, and patience, bearing with one another and, if one has a complaint against another, forgiving each other; as the Lord has forgiven you, so you also must forgive. And above all these put on love, which binds everything together in perfect harmony. And let the peace of Christ rule in your hearts, to which indeed you were called in one body. And be thankful (Colossians 3:12-15).
Glorifying the Father means reflecting his character in love, thankfulness and peace. Our everyday interactions with people, as well as our response to circumstances, will reflect what we believe about God. Staying our minds on Christ and trusting his sacrifice for us allows the peace of God to dwell within us (Isaiah 26:3). An attitude of gratefulness focuses us on the One who provides and sustains, lifting us above our daily situations to bring glory to the Father.
So if there is any encouragement in Christ, any comfort from love, any participation in the Spirit, any affection and sympathy, complete my joy by being of the same mind, having the same love, being in full accord and of one mind. Do nothing from selfish ambition or conceit, but in humility count others more significant than yourselves. Let each of you look not only to his own interests, but also to the interests of others (Philippians 2:1-4).
Glorifying the Father means thinking of ourselves less and of others more. Jesus glorified the Father when he left his rightful place in heaven and descended to earth, to die a criminal's death on a cross. Christ thought of us. We pursue the Lord's glory when we trust that our worth is found in him alone. Our approval in Christ frees us to love others without boundaries, while helping us rid of finding our worth in what we produce or attain.
Now as they went on their way, Jesus entered a village. And a woman named Martha welcomed him into her house. And she had a sister called Mary, who sat at the Lord's feet and listened to his teaching. But Martha was distracted with much serving. And she went up to him and said, "Lord, do you not care that my sister has left me to serve alone? Tell her then to help me." But the Lord answered her, "Martha, Martha, you are anxious and troubled about many things, but one thing is necessary. Mary has chosen the good portion, which will not be taken away from her (Luke 10:38-42).
Glorifying the Father means choosing the good portion in Christ. How we invest our time and energy speaks volumes about what we find valuable. Jesus tells us that only one thing is truly necessary: himself. Abiding in Christ – seeking to know him better through the reading of the Word; in focused prayer; under sound preaching; within Christ-centered fellowship – is the cornerstone for a life in pursuit of glorifying God. The peace that reigns in our hearts will be related to the direction of our gaze.
Are you in pursuit of God's glory? Whether you are feeling like Job as the storms of life rage around you; or you have just come to faith in Jesus Christ and you have a lot of questions; or you are in a season of blessing and abundance, God seeks to be glorified through your life by transforming you to Christlikeness and redirecting your gaze to his Son, Jesus Christ.
So whether over a meal with your beloved, during a time of personal prayer, or worshiping God corporately, may the Almighty's glory be pursued and magnified in your life!
Kristen Leigh Evensen is a writer, blogger and singer/songwriter. She writes on faith and identity at The Identity Project and keeps a column at WHOLE Magazine. Her desire is to see women transformed by the Gospel! Follow her on Twitter @kristenlevensen and on Facebook.
Publication date: March 13, 2014
Page Source (url):
http://www.crosswalk.com/faith/women/living-in-pursuit-of-god-s-glory.html