'Tis the Season for Something Different on Shust's "Unto Us"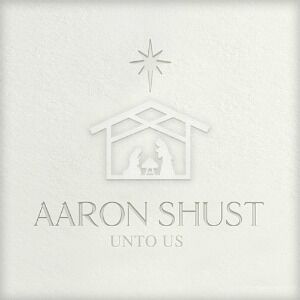 It's only October 20, and Christmas has already made its presence known in the retail world. Yes, trees and tinsel and everything fa la la is already front and center at a store near you, so it's not surprising that holiday music isn't far behind.


And for anyone who enjoys a brief reprieve from the 30 or so Christmas songs that practically play on a perpetual loop year after year, Aaron Shust's first seasonal project, Unto Us, will be a welcome change of pace. Instead of recording the usual standards, Shust decided to eschew tradition and try something different by writing and recording 10 new tracks instead.
Produced by David Hamilton who's worked with artists who've recorded more than their fair share of Christmas albums, namely Michael W. Smith and Amy Grant, Unto Us shines because it's not only thoroughly original but beautifully crafted.
Giving the album that big, majestic sound that instantly screams Christmas, Shust recorded eight out 10 tracks with the Symphony Orchestra in Prague. Yielding a dazzling effect without distracting from the message, the dynamic accompanying soundtrack helps tell the story of the album.
Indeed, there's a method to Shust's creative madness, and it's to tell Jesus's birth story in a way that's thoroughly celebratory. With "Star of Wonder," "Gloria," the title track, "Advent Carol" and "God Has Come to Earth," Shust effectively sets the stage by proclaiming the wonder and awe of the Savior's birth.
With "Sanctuary," "Keep Silent" and "Bethlehem," Shust transitions the focus to adoration, the moment where we, like the shepherds, reflect on the miracle that has come to earth, while the two remaining tracks "Rejoice" and "Go Tell It," represent The Celebration, the moment when the shepherds couldn't contain their joy any longer and had to share the message with anyone within earshot.
In a season where the hustle-bustle can be all-consuming, an album like Unto Us is a thrilling and important reminder of why and Who we're celebrating. Whether it accompanies a moment for quiet reflection or serves as a new soundtrack for the season, Unto Us puts the focus where it should be—and in rather spectacular fashion.