Crowder Announces Holiday Album, 'Milk and Cookies'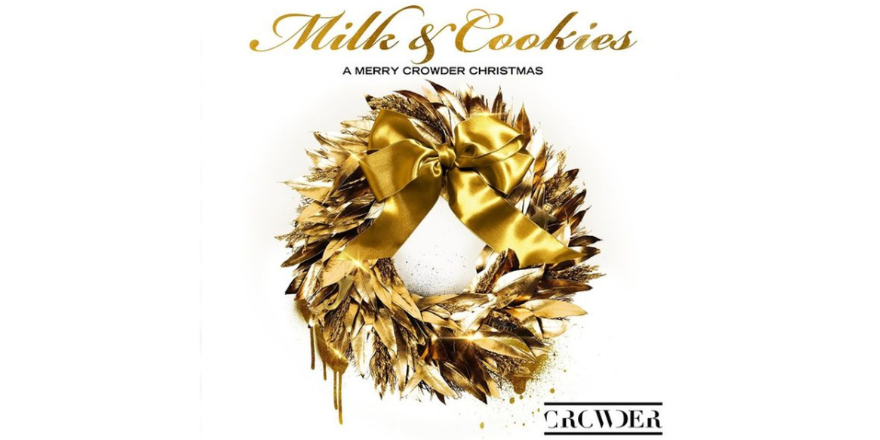 On Friday, October 21, 3x GRAMMY-nominated artist Crowder released his Christmas album, Milk & Cookies: A Merry Crowder Christmas (via sixstepsrecords/Capitol CMG).
With a title that puts a seasonal spin on his lauded 2021 release Milk & Honey, the Christmas project features a mix of festive originals, re-imagined classics, and creative collaborations. In all, the 14-track project showcases Crowder's signature charm on multiple interludes scattered throughout; playing the role of an objective narrator that has become a staple of classic holiday films.
Crowder's energy, infectious personality and comedic timing are on full display throughout the record, including a tribute to the North Pole's working class, "The Elf Song," and glimpse at the woes of Mrs. Claus in "The Ballad of Mrs. C (She's Sick of the Beard)."
Breathing new life into timeless Christmas songs through unexpected collaborations, Crowder taps Country Music Hall of Fame member Ricky Skaggs for a banjo-driven version of "Go Tell It On The Mountain." Other standouts on the record include "I've Heard About You," a tender tribute to the reason for the season, which is available now as the first offering from the forthcoming project, the bluesy original "Christmastime Is Here" and "December 26th (Auld Lang Syne)," which finds the Texarkana native putting his own clever spin on the lyrics to the New Year's Eve staple and adding a modern take to the centuries-old song.
Closing the record with a laugh-out-loud twist on the classic children's book "Goodnight Moon," Crowder wishes "goodnight" to everything that fills the holidays with joy and cheer – including the "elves with their 401ks" and his "leftovers" in the fridge.
Milk & Cookies: A Merry Crowder Christmas Track Listing:
1. Prelude: It Came Upon a Midnight Clear
2. Thanks Giver
3. I've Heard About You
4. Interlude I: Milk
5. The Elf Song
6. White Christmas
7. The Ballad of Mrs. C (She's Sick of the Beard)
8. Christmastime Is Here
9. Interlude II: Cookies
10. Your Praise Goes On
11. Go Tell It on the Mountain (feat. Ricky Skaggs)
12. Carol of the Bells (feat. Tommee Profitt)
13. December 26th (Auld Lang Syne)
14. Postlude