Music Review: "God's Not Dead" Soundtrack Works, but Not Hard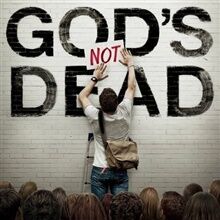 By Ed Cardinal, Crosswalk.com Contributing Writer


New faith-based film God's Not Dead is a lightning rod for the "Do Christians make good art?" debate. Breaking down the story of a college kid who must defend his beliefs against an atheist Philosophy professor, critics aren't being kind to the box office hit, citing subpar script, acting, and production values that do tend to exist when budgets and experience are relatively low; this ain't Hollywood. In the same way, the movie's soundtrack isn't a masterwork by any stretch, but it has good values of its own.

On the bright side, this various artist collection tracks right along with the God's Not Dead action. The film's star Shane Harper, also a singer it turns out, opens the set with "Hold You Up," a song so obviously influenced by current chart trends (Mumford & Sons, Phillip Phillips) but nevertheless catchy and right in line with his character's journey (The angels they brought you, and they're gonna hold you up). Manic Drive's "Save a Life," a danceable Christian rocker, speaks more to the weight of furthering Christianity.

Superchick alumna Tricia has the standout moment with "What I Know," a faith-fueling strings and piano ballad with soaring vocals that reach an emotional place for which her former band wasn't really known. Newsboys, who appear in the film, make a double appearance here with steady rocking worship anthem "The King Is Coming" and a remix of "God's Not Dead (Like a Lion)" that flows key audio clips from the movie—mostly classroom arguments—into the music: How can you hate someone if they don't exist?

Indeed, these cuts will repeatedly inspire those who enjoyed the movie as will solid pop-rock selections from Jimmy Needham, Stellar Kart, and JJ Weeks Band. But there is still the "excellence" issue to address that many fairly take when it comes to all things Christian filmmaking. There's something so "ancillary" and rush-jobbed about the God's Not Dead soundtrack that lowers its final grade. It could be the lack of exclusive tracks, the tacked on eight-minute instrumental collage at the end, or how nearly every artist is part of the proprietary Inpop label (so the music was chosen to some degree by convenience).

As an audio product supporting its visual source, God's Not Dead: The Motion Picture Soundtrack works. But it doesn't work especially hard.
*Published 3/24/2014
Page Source (url):
http://www.crosswalk.com/culture/music/i-god-s-not-dead-i-soundtrack-works-but-not-hard.html