Lauren Daigle Performs on "The Ellen Show"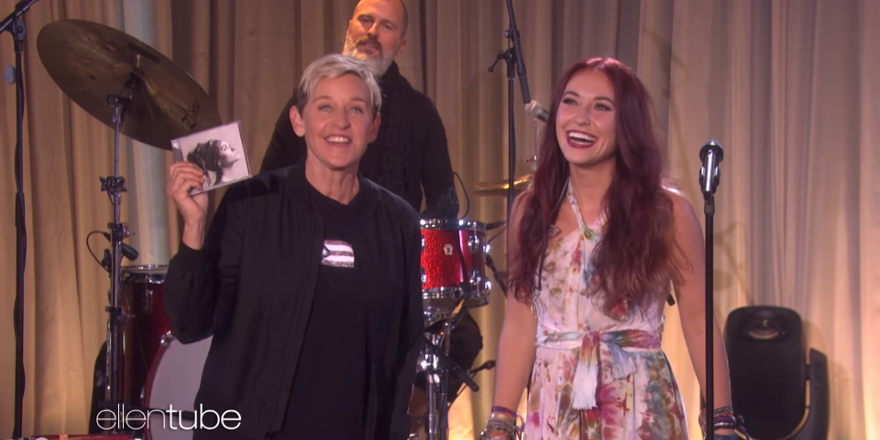 Lauren Daigle appears unstoppable! The singer made her "The Ellen Show" debut October 24th, and took the stage with her song, "Still Rolling Stones" from her album, Look Up Child.
We have the performance right here!


Lauren's latest CD, Look Up Child set records as it debuted on the Billboard Music Charts; becoming the first Christian artist to top all five of Billboard's core Christian charts simultaneously.
Daigle's sophomore studio album topped the Top Christian Albums chart by a mile. It also notched a No. 3 entry on the all-genre Billboard 200, an impressive showing that reflects Lauren's crossover appeal, and potential in the mainstream music scene.
About the success she's enjoyed so far, Lauren has eternity in perspective. "Music can exist for a moment, and then have the power to live legacies long," shares Lauren. "I'm so grateful for the opportunity to passionately throw myself into what I love - my music," she adds. "This outpouring of support overwhelms me. Thank you to everyone for listening to, and connecting with, Look Up Child. Cheers to a fun future of music making and seeing you all on tour!"
With Look Up Child, Lauren sought to capture the youthful whimsy of childhood and encourage others to maintain that childlike wonder and not lose passion for what they love. Produced by Paul Mabury and Jason Ingram, the ambitions 13-track album is a heartfelt expression of Lauren's journey to self-discovery. "This Girl" brings details a trying period of her life and offers an assurance that you can never lose who you are. Another track, "Rescue," offers up hope, stretching from sparse piano into a choir-backed refrain of "I will rescue you." Meanwhile, the soulful "Still Rolling Stones" shares a battle cry to overcome the obstacles that life presents and 'rise up.'