Matt Redman - Seek And You Shall Find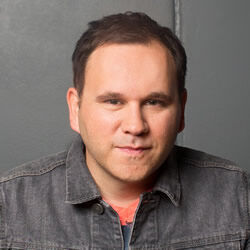 Matt Redman
has consistently and generously given melodies to God's promises throughout his career; thus it was no surprise that his song, "10,000 Reasons" took home Song of the Year at the 44th GMA Dove Awards. He's back with a new album,
Where Grace Finds Me
, that once again gives simple, yet fresh songs to which the world can worship. Read on for CCM's exclusive interview with the worshipper, leader, songwriter, father and husband.
CCM:
Where do you find grace? Where does grace find you?
MATT:
I think grace shows up in our lives in a multitude of ways and it's there for those with the eyes to see it. Grace could be defined as the undeserved, unearned, freely given gifts of God in our lives. Ultimately, we find grace at the cross, the biggest example we'll ever see. And yet, grace finds us in so many other moments too. You breathe in and out and your life continues— that's grace. You socialize or enjoy family—that's grace. You didn't earn those beautiful moments; they are the generous, kind expressions of grace in our lives. Everyone experiences this stuff, but not everyone attributes it to God or recognizes it as grace.
CCM:
You've been writing worship songs for the church for years, yet seem to consistently come up with new ways to phrase things and creatively express your adoration of Christ. From where does your inspiration come?
MATT:
The ultimate filter I put everything through when I'm writing a worship song is something I heard Brian Doerksen say years ago: "The best songs express a 'universal theme' in a 'unique way.'" So that's always the aim—to take these big grand themes of God, life and the Bible and try to wrap fresh words and melodies around them. I always have my antennae up, looking for a Bible verse, a phrase or even a mere word that might add some freshness to things. I don't think we always have to be progressive or clever. Sometimes profound things can be said in simple ways.
CCM:
What do you notice as the key differences between bodies of believers in the UK and the US?
MATT:
Living in the States for a while made me realize that there's a lovely optimistic positivity in the outlook of so much of the church and a tendency to dream big. That was helpful for me and something from which so many of us in the UK can learn. The biggest differences have to do with the fact that a sense of the secular has taken hold of European culture so much more than in the USA. When it comes to evangelism in the UK, you can't assume people know the Christ story or Bible moments that previous generations would have. There are also fewer obstacles to an un-churched person attending a service in the States, I think. I noticed it particularly at Easter, living in Atlanta. I noted how service numbers would swell massively on Easter weekend, as lots of people in the community visited who normally wouldn't do so. Where as in the UK, you honestly wouldn't notice any difference in numbers that week from any other week.
CCM:
Were you surprised by the success of "10,000 Reasons"? Did you feel pressure with this record to come up with another huge hit like that?
MATT:
I was very surprised by the level of momentum that accompanied that song, yes. It's a simple song, there's nothing complicated or groundbreaking about it at all—it doesn't even have a bridge section! But somehow, it seems to help people talk to God in a special way, and I love that. It was written very quickly and without strain. Because it arrived like that, it's made me not stress about matching it this time around. I figure if I didn't know what I was doing last time with "10,000 Reasons," I don't need to know what I'm doing this time around either! I'll do my best and then let go and let God breathe on what He wants to breathe on. That's the interesting thing about the creative sphere—you're automatically kept in a stance of dependence, not knowing when the next helpful song will arrive. That's not so in lots of other walks of life. For example, an accountant can pass an exam and from then on, always be able to repeat that level of competence. That's not so with songwriting. I wrote "10,000 Reasons" with my friend Jonas, and we've had so much response to that song—yet we're no more qualified as worship songwriters than we were the day before we wrote it. Ok, we're more experienced and hopefully are always honing our skills, but we couldn't go back and guarantee a repeat of the process. In my mind, that's a good thing. It can keep you humble and dependent.
CCM:
You and your wife have done some amazing work together… how do you balance that work/marriage relationship?
MATT:
Wow…there's no quick or easy answer. We love ministering together. Sometimes that means Beth singing with me, us songwriting together or her speaking when I lead worship. Other times it's me supporting Beth in her role as a UK ambassador for the A21 Campaign [an anti-human trafficking organization]. But of course we have 5 kids, so life can get a little crazy. We haven't discovered the magic formula yet. At times it's a tricky balancing act, and one of the key things is trying to make sure we have some good support in place.
CCM:
What's the latest thing God has revealed about Himself to you?
MATT:
That He is slow to anger, and quick to show compassion. And that sometimes I'm the opposite. I'm going to need to give that some attention!
CCM:
When you see the world worship, what does that stir up within you?
MATT:
It makes me think about God on His throne, and a glimpse of that heavenly scene we see in places like Revelation, chapters 4 and 5. We're not just singing for the fun of it. I believe that our expressions of worship are part of that heavenly anthem. - See more at: http://www.ccmmagazine.com/article/seek-you-shall-find/#sthash.W2bPq6kQ.dpuf
---
Click here to read more articles like this from
CCM Magazine!
The above article is printed with permission from
CCM Magazine
, the No. 1 source for all things Christian music, news and entertainment