Music Review: Steven Curtis Chapman Delivers a "Glorious Unfolding"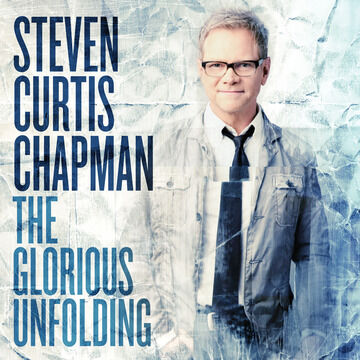 By Ed Cardinal, Crosswalk.com Contributing Writer

In itself, Steven Curtis Chapman's The Glorious Unfolding may be the best testament to the message it carries: God's plan for our lives will be revealed soon enough, even if nothing makes sense today. Fans know the chart-topping Christian music favorite traveled a long, challenging road in recent years to arrive at this batch of new songs, and the eternal wisdom each one contains outshines any temporary darkness that may have inspired them.

Most noticeable from the start is how The Glorious Unfolding marks a return to creative form that made Chapman's heyday albums from The Great Adventure to Speechless such exciting events in his genre. The title track has a familiar shape as the singer shares God's quiet message in the verse (Don't try to figure it out / Just listen to what I'm whispering to your heart) then punches into full voice for the anthem-designed chorus. After a spate of hit collections, re-recordings of said hits, a third Christmas project, and an exclusive Cracker Barrel set, it's a relative treat just having Steven Curtis completely back in his sweet spot.

Sunny first single "Love Take Me Over" is sweet indeed. Unique in its playful rhythm, acoustic arrangement, and sing-along melody, the track encourages listeners to be intentionally aware of how much God loves them. "Take Another Step" (not far removed from "Carry On" by Fun.) is another all-cylinders-firing piece for anyone paralyzed by what you don't understand. It also sets a stage for the remarkable "Finish What He Started," a master class of thoughtful songwriting and production that seals the set's energetic first half while moving toward the softer second act.

As always, Steven Curtis writes to his family. "Only One and Only You" is for his 13-year-old daughter and shows a clear Billy Joel influence; any parent of teens will relate to this sweet piano-led selection. The slowly symphonic "Together" is for his wife and says well what spouses feel after they've raised kids through good and bad. The bright-sided "Michael and Maria" speaks to such tragedies as losing children and powerfully admits: Right now if we're all honest we don't like God's higher ways, but we are trusting Him because what else can we do?

Finally, "Sound of Your Voice" and "Feet of Jesus" are soul-centering standouts, the former guiding us to hear the songs You're singing over all this noise. We should all be listening.
*This Review First Published 9/18/2013
Page Source (url):
http://www.crosswalk.com/culture/music/chapman-delivers-a-i-glorious-unfolding-i.html