Music Review: Group 1 Crew, "Fearless"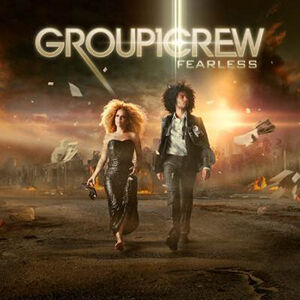 Five time Dove Award winner
Group 1 Crew
is back with their fourth studio album. The blending of Hip Hop, R&B, and pop returns, and even with some slight changes stylistically and losing one group member, the overall product comes out better than ever.
Manwell
and
Blanca
seem to have taken the opportunity of being a popular band to the next step and decided to make music that is not only very fun, but also serves a more serious purpose with their latest venture, titled
Fearless
.
The first couple of tracks open exactly as long time G1C fans would expect: electronica pop infused dance music that can be played at any good party with songs that still glorify the Savior. Right off the bat, however, I noticed that the lyrical content seems to be typical and perhaps even shallow. Words that sing "His kind of love is reckless and will never give up" while true, leave me hoping for a little more depth. But then they come. "He Said" delivers a slower CCM vibe that speaks strongly about how we should live because of what God has told us in His Word. G1C receives help from label mate
Christ August
, and the blending of vocals in this track is not one to be missed. The song carries such weight that G1C even has a Bible study to go along with it on their website.
Up next we catch "Dangerous" and "Goin Down," both with a faster pace than what's been played so far. With the rapping and solid production thrown in, these are both nice tracks. The content stays strong with a sincere call of "Whatever it takes, I want You to make, make me more like You." Speaking of rapping, you won't notice very much of it on
Fearless
overall. The departure of
Pablo
seems to have left a small gap in their talent pool and this may leave some rap-loving listeners wanting more. Other sections of the album that may leave everyone wishing for more include be "Mr. and Mrs," a track that awkwardly blends the words with music that just don't quite fit together, and "Darkest Valley" or "Not The End of Me," which are both nice, creative ideas for songs, but simply not executed very well. After catching a few more dance club/party tracks to move to, the record ends with the powerful messages of trusting in God's grace for everything and giving ourselves to Him fully in "Steppin Out" and "Forsaken."
Overall,
Fearless
is a pretty good release and the steps that have been taken forward are strong ones.
Fearless
shows a more purposeful side at times with a solid message, while still carrying those fun house party joints that we've come to expect from Group 1 Crew. It is a definite pick up for any fans of G1C or those who dig the pop or R&B radio stations.
---
Used with permission -
www.jesusfreakhideout.com