Music Review: Jason Gray, "Christmas Stories - Repeat the Sounding Joy"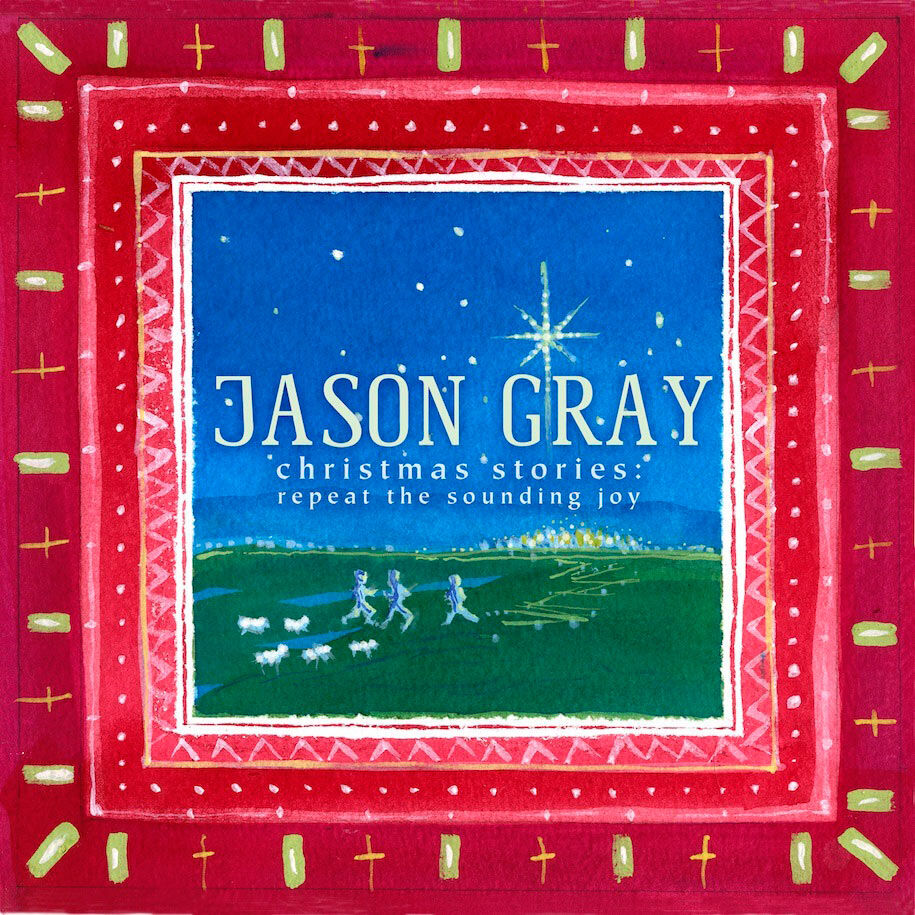 Since finding a label home with Centricity in 2007, Jason Gray has risen from indie obscurity to become a favorite songwriter in Christian music. His most recent albums have pleased critics and listeners alike by melding intelligent, transparent writing with accessible folk-influenced pop. His latest release, Christmas Stories: Repeat the Sounding Joy, adds a full-length holiday project to the repertoire, thirteen songs that approach the season in his own unique way.
Theoretically, putting a Christmas record together should be easy. Most holiday projects pull from a variety of well-known classics and mix in some originals, but taking the easy way just wouldn't be Gray's style. Instead, the album centers on the Christmas story as a narrative, not in simple Sunday school form, but through the eyes of real human characters in all their deeper conflict.
Jason Gray is perhaps best known for personal yet relatable songs, but the heartbeat of this album is a narrative approach, entering the characters and bringing each player to life. A busy, harried innkeeper seeks "Rest," though hope crying in the stable keeps him awake. "Ave Maria" contrasts Mary's youth and innocence with her role bearing the hope of humanity. "Forgiveness is a Miracle," one of the record's most poignant moments, explores Joseph's character through pain, feelings of betrayal, and ultimately, forgiveness. And though taking the perspective of the Magi, "Easier" feels most like a confession, as Gray reflects, "It's easier to give you the things I do than to open my life and let you walk through."
All this drama may give the impression of something weighty and dark, but from start to finish, the album is infused with remarkable joy. "O Come All Ye Faithful" opens in an invocation to listen, and "Christmas is Coming" is a bright singalong setup to contrast with the tension. It's fitting that Joseph's song ends celebrating forgiveness and gives way to images of shepherds running to see the newborn king in "Gloria!" Rounding out the narrative is a new version of Gray's previously released song "I Will Find a Way," a mysterious retelling of the Incarnation that feels even more meaningful in the context of these stories. The record closes as cheerfully as it begins: "Christmas for Jesus" turns the vocals over to Gray's son Gus, a move that risks being gimmicky on so many Christmas albums, yet works as a playful interlude before "Children Again" and "Joy to the World."
With Cason Cooley at the production helm, Christmas Stories, though still distinctly pop, has a unique sonic flavor. The acoustic influence that marks his work takes a lesser role in these spacious melodies. A variety of textures gives an ethereal feel without sounding conspicuously like a Christmas record, and some fun musical experiments are found throughout. "Ave Maria" especially stands out, reimagining the Latin hymn with a 50s doo-wop vibe, a lighthearted contrast to the weight of Mary's story and the reverence of the classical roots. "O Holy Night" highlights electronic flourishes that evoke a little bit of 80s pop. Also notable is the way "Gloria!" nearly explodes in the middle of the record with all the joy of shepherds running under starry skies. The waves of sound and mood throughout the album's middle section enhance the narrative flow without overpowering the lyrics.
Christmas Stories isn't the kind of album to get a Christmas party going or evoke warm nostalgia by the fireplace, but it isn't too self-consciously quirky either. Instead, the mix of reflective storytelling with buoyant pop is best received as an album, perhaps even more so than Gray's prior work, and has the feeling of an artist's vision to see Christmas a little differently. Those who already know what Jason Gray is capable of will no doubt appreciate it as the kind of record only he could make. Those looking for something accessible but a little more meaningful than songs about snow and sleigh bells could find a real holiday treasure in this collection.
Oh Come All Ye Faithful (1:15)
Christmas Is Coming (3:44)
O Little Town of Bethlehem (1:02)
Rest (The Song of the Innkeeper) (3:41)
Ave Maria (The Song for Mary) (4:20)
Forgiveness Is a Miracle (A Song for Joseph) / Man of Mercy (5:32)
Gloria! (The Song of the Shepherds) (3:51)
O Holy Night (3:55)
Easier (The Song of the Wiseman) (3:42)
I Will Find a Way (The Song of Emmanuel) (4:55)
Christmas for Jesus (1:18)
Children Again (3:53)
Joy to the World (3:24)
---
Used with permission -
www.jesusfreakhideout.com