Music Review: "Hope for All the World" is Safe, but Still Fun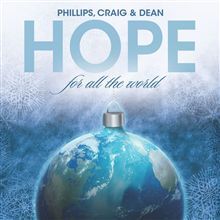 By Ed Cardinal, Crosswalk.com Contributing Writer

Diehard fans of adult contemporary/praise & worship trio Phillips, Craig & Dean may recognize Hope for all the World; the holiday set was independently released in 2010 as an EP but expands now to a full-length album offered through Fair Trade Services (MercyMe, Laura Story). It is also the veteran outfit's second Christmas effort following 1996's Repeat the Sounding Joy.

All footnotes aside, this musical package is about as safe as a gift card—not particularly exciting to open but bound to lead to something you'll like. Among the tracks that are new to this edition, opener and radio single "Born Is the King (It's Christmas)" is bright with ringing acoustic guitars, percussion that sounds like boots stomping through fresh snow, and a crucial message of hope. "The First Noel" has a pleasing pop arrangement, and the seamless medley of "God Rest Ye Merry Gentlemen/We Three Kings" plays around in a safe folk-meets-international space.

Another newbie, "Suddenly" co-written by Randy Phillips and chartbuster Matthew West, retells the birth of Jesus with a just a hint of Bruce Springsteen-ish rock storytelling that gives way to a mega-pop chorus. It straddles the border between cheesy and truly moving, which is how a lot of people tend to perceive Phillips, Craig & Dean anyway. It just keeps working for these guys.

The best executed cuts are "O Come All Ye Faithful" (produced and arranged with the hit-ready sensibilities of The Beatles and more recently Sara Bareilles) and warm-as-cider ballad "God Bless Us" whose Dickensian lyrical hook should melt even the most frozen humbug heart. If you prefer to mix and match annual batches of Christmas music rather than splurging on entire recordings, both of these tracks are solid download options.

Previously issued songs "For all the World" and "A Night of Hope" are on par with the aforementioned "Born Is the King"—exactly what PCD fans will be looking for in this context. And while the so-called duck mix of "Jingle Bells" highlights someone doing a smile-inducing, spot-on impression of Donald Duck, it'll be an acquired taste among all these other reverent moments. Ha, ha, ha and ho, ho, Hope for all the World!
*This Article First Published 11/18/2013
Page Source (url):
http://www.crosswalk.com/culture/music/i-hope-for-all-the-world-i-is-safe-but-still-fun.html