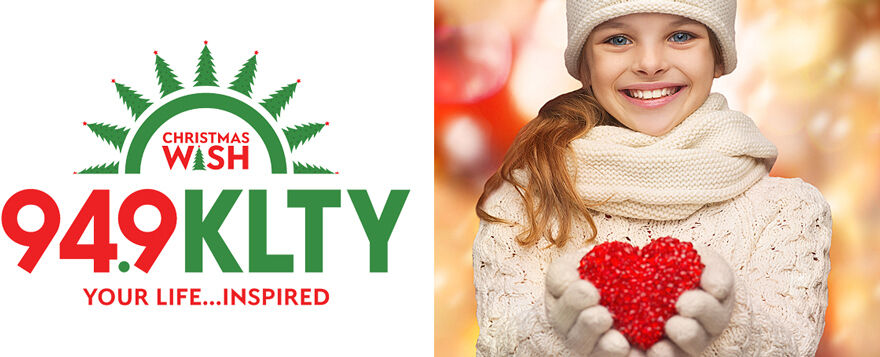 Each year during the holiday season, 94.9 KLTY helps out the DFW Metroplex by initiating a promotion called the 94.9 KLTY Christmas Wish™. We ask our listeners to email us their Christmas "wishes" by nominating a Christmas Wish Recipient. *Visit us at one of our participating Chick-fil-A locations this season!

94.9 KLTY will select nominations starting after Thanksgiving through December 23rd, and make their Wish a reality!
100% of all funds raised are given back to the Dallas/Fort Worth Community.





*The 94.9 KLTY Christmas Wish™ is a 501c3 org. All donations are tax-deductible as allowed by law.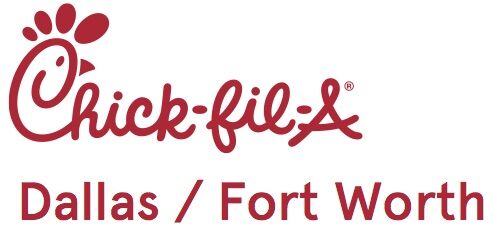 What is the 94.9 KLTY Christmas Wish™ and how has it helped the community?
Over the course of the last 23+ years, 94.9 KLTY has raised millions of dollars in cash, goods, and services and channeled it back into the DFW Community through the 94.9 KLTY Christmas Wish™ (a certified 501(c)3 program). The 94.9 KLTY Christmas Wish continues to help hundreds of families in the Metroplex each year thanks in part to our partners, listeners and staff!
The 94.9 KLTY Christmas Wish empowers our listeners to nominate friends, family members, co-workers, neighbors… the man on the street…. anyone that may have a need. Our staff then reviews all submitted wishes, authenticates, categorizes, and then shares them with the community. We encourage our listeners to grant wishes on their own and share in the giving spirit of Christmas!


| | | |
| --- | --- | --- |
| DATE | LOCATION | TIME |
| Sat 11/28 | Richardson (75 & Campbell) - 106 W. Campbell Rd., Richardson, TX 75080 | 10am-2pm |
| | | |
| Mon 11/30 | Fort Worth (Montgomery Plaza) - 549 Carroll St., Ft. Worth, TX 76107 | 6am-10am |
| Tue 12/1 | Plano (Preston & 121) - 8724 Preston Rd., Plano, TX 75024 | 6am-10am |
| Wed 12/2 | Ennis - 390 N. Interstate Highway 45, Ennis, TX 75119 | 3pm-7pm |
| Thu 12/3 | Fort Worth (Chislom Trail Ranch) - 5601 McPherson Blvd., Ft. Worth, TX 76123 | 6am-10am |
| Fri 12/4 | Prosper (Prosper Gates) - 1091 S. Preston Rd., Prosper, TX 75078 | 6am-10am |
| Sat 12/5 | Hurst (Hwy 26 @ Precinct Line) - 767 Grapevine Hwy., Hurst, TX 76054 | 10am-2pm |
| | | |
| Mon 12/7 | Waxahachie - 996 W. Highway 287 Bypass, Waxahachie, TX 75165 | 6am-10am |
| Tue 12/8 | Dallas (Inwood Rd) - 12120 Inwood Rd., Dallas, TX 75244 | 6am-10am |
| Tue 12/8 | Dallas (Frankford Rd.) - 4523 Frankford Rd., Dallas, TX 75287-6824 | 3pm-7pm |
| Wed 12/9 | Frisco (Frisco Lakes) - 7979 FM 423, Frisco, TX 75034 | 3pm-7pm |
| Thu 12/10 | Rowlett - 2617 Lakeview Pkwy., Rowlett, TX 75088 | 6am-10am |
| Fri 12/11 | Denton (DTC) - 1711 S. Loop 288, Denton, TX 76205 | 6am-10am |
| Sat 12/12 | Saginaw - 4500 W. Bailey Boswell Rd., Ft. Worth, TX 76179 | 10am-2pm |
| | | |
| Mon 12/14 | Mesquite - 1600 N. Town East Blvd., Mesquite, TX 75150-4106 | 6am-10am |
| Tue 12/15 | Watauga - 8016 Denton Hwy., Watauga, TX 76148 | 6am-10am |
| Tue 12/15 | Westworth Village (Hawks Creek) - 6650 Westworth Village Blvd., Westworth Village, TX 76114 | 10am-3pm |
| Tue 12/15 | Hurst (Pipeline @ Loop 820) - 1475 W. Pipeline Rd., Hurst, TX 76053 | 3pm-7pm |
| Wed 12/16 | Frisco (Preston Rd. & Gary Burns) - 8875 Preston Rd., Frisco, TX 75034 | 3pm-7pm |
| Thu 12/17 | Red Oak - 200 Sharaf Ave., Red Oak, TX 75154 | 6am-10am |
| Fri 12/18 | Benbrook - 8800 Benbrook Blvd., Benbrook, TX 76126 | 6am-10am |
| Sat 12/19 | McKinney (Eldorado & Ridge) - 6201 Eldorado Pkwy., McKinney, TX 75070 | 10am-2pm |
| | | |
| Mon 12/21 | The Colony - 3705 Main St., The Colony, TX 75056-2808 | 6am-10am |
| Tue 12/22 | Euless (HTC) - 3003 State Highway 121, Euless, TX 76039-4076 | 6am-10am |
| Wed 12/23 | Dallas (LBJ & Midway) - 12795 Midway Rd., Dallas, TX 75244 | 3pm-7pm |
Location:
94.9FM KLTY
6400 N. Belt Line Rd, Suite 120
Irving, TX 75063
Google Map
1-888-949-KLTY (5589)