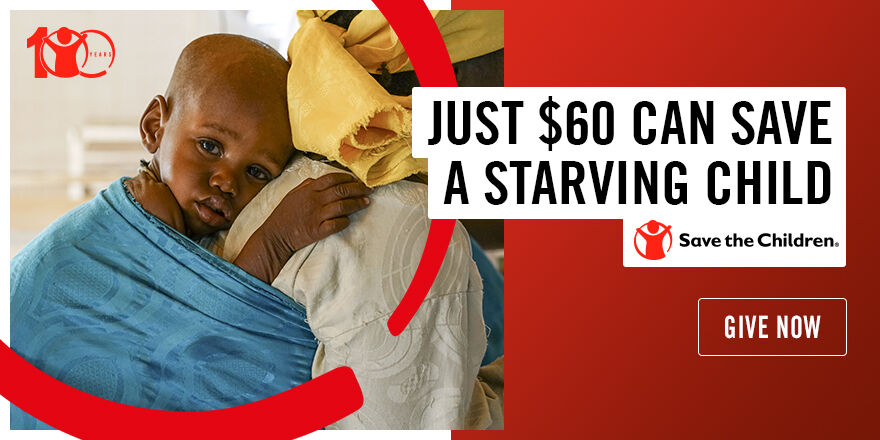 Around the world, 10 children die every minute from common illnesses that can be prevented and treated.
Not only is this a horrifying reality, it is a needless one. But you have the power to help change it right now when you donate to Save the Children.
This is what's happening to Fatima, a young mom in Niger, and her son, Rabiou. When the rains came late, Fatima and her husband couldn't plant their crops and began using up the meager food they had stored.
Fatima is terrified that Rabiou is starving to death. He's sick with diarrhea, vomiting and has become very weak. "The thing that makes me most unhappy is seeing my son unhealthy," says Fatima. "I want to see him playing with the other children."
We have the power to save children like Rabiou. That's why 94.9 KLTY is partnering with Save the Children this year on an important campaign to help save children all around the world.

Right now you have the power to help babies make it through the first critical days of life, to feed severely malnourished girls and boys, and to help struggling kids overcome life-threatening obstacles under the world's worst conditions.

Any amount you give at this critical time supports Save the Children's dedicated staff around the world and provides life-saving resources, so we can give these girls and boys a healthy start, the opportunity to learn, and protection from harm.
Please don't hesitate. Donate now
A hurricane steals so much more than toys and clothes.

When Hurricane Harvey hit Houston and the surrounding areas, Save the Children was there—meeting the very specific needs of children and their families devastated by this life-changing storm. As so many families were forced to leave their homes, emergency response teams quickly established child-friendly spaces in evacuation sites, with staff trained to help vulnerable children deal with difficult emotions.

Now, nearly two years later, Save the Children is still there for those whose lives were so dramatically affected by the hurricane. More than 100,000 children will benefit from psychosocial programs launched by Save the Children to help them cope with their losses, fears and stresses.
Save the Children believes every child deserves a future. In the U.S. and around the world, we give children a healthy start in life, the opportunity to learn and protection from harm. We do whatever it takes for children - every day and in times of crisis - transforming their lives and the future we share.
Connect with


©2019 Save the Children | 501 Kings Highway East, Suite 400 | Fairfield, CT 06825 | 1-800-728-3843


Privacy Policy