94.9 KLTY WEEKEND PICKS!
Friday, May 27 - Monday, May 30
Friday 5/27 — Monday 5/30
SCARBOROUGH RENAISSANCE FESTIVAL
SCARBOROUGH RENAISSANCE FESTIVAL GROUNDS
2511 FM 66
Waxahachie, TX 75167
Final Weekend (and Monday), 10am - 7pm Tickets range from $14 - $37
Scarborough Renaissance Festival's 41st season is almost over! Come experience our new themed weekend, new shows, new food & drink, and over a dozen new artisans to compliment long-time Festival favorites. Scarborough Renaissance Festival® is a full day of interactive fun for everyone, 16th Century Style that will run Saturdays & Sundays and Memorial Day Monday, May 30, 2022. www.srfestival.com
CHARLES SCHWAB CHALLENGE
COLONIAL COUNTRY CLUB
3735 Country Club Circle
Fort Worth, TX 76109
Through Sunday Tickets vary $94 - $635
Military-related charities are also a significant part of the tournament's activities, including Military Warriors Support Foundation and their Homes4WoundedHeroes program. Colonial has helped donate 16 homes to injured veterans in recent years. To learn more about our charity partners go to www.charlesschwabchallenge.com/charities. www.pgatour.com
CARRY THE LOAD (DALLAS MEMORIAL MARCH)
REVERCHON PARK
3505 Maple Avenue
Dallas, TX 75219
Sunday & Monday, 9am - 1:30pm FREE TO THE PUBLIC
The centerpiece of the two-day event that begins at 12 pm on Sunday and culminating 1:30 pm on Monday. The March is the symbol of how Carry The Load started, represents carrying the fallen heroes we honor, and we welcome you to join whether for 20 hours or 20 minutes. Reverchon Park in Dallas hosts the two-day event featuring music, inspirational speeches, stories of fallen heroes, flag ceremonies and more. No fee is required with registration — we simply ask you to respect those who have given everything to protect and serve us all. Carry The Load is a registered IRS 501(c)3, Tax ID # 27-4568835. www.carrytheload.org
IRVING MEMORIAL DAY CEREMONY
VETERANS MEMORIAL PARK
644 Rock Island Road
Irving, TX 75060
Sunday, 2:30pm - 4pm FREE TO THE PUBLIC
Honor Irving veterans at a Memorial Day Ceremony hosted by the Veterans Memorial Park Committee. The guest speaker will be Irving Councilman Allan E. Meagher, and the moment of reflection will be presented by Annette French, a retired U.S. Navy Petty Officer Second Class. The ceremony will take place 2:30 p.m. May 29 at the Jack D. Huffman Community Building Auditorium, 801 W. Irving Blvd. A ceremony will be held at the Veterans Memorial Park Wall of Commemoration, 644 Rock Island Road, following the program. www.cityofirving.org
NATIONAL POLKA FESTIVAL
DOWNTOWN ENNIS
302 N. Dallas Street
Ennis, TX 75119
Friday through Sunday, 6pm - 11:30pm Tickets vary $9 - $30 (3-Day Pass)
Come celebrate 55 years of Czech heritage and traditions Friday through Sunday, May 27-29, 2022. Held every year on Memorial Day Weekend, the Corona Premier National Polka Festival offers an abundance of activities to be enjoyed by the entire family in a small town atmosphere. The festival kicks off with an opening dance on Friday featuring polka music and the King and Queen Dance Contest, where participants and non-participants are encouraged to wear traditional Czech kroj (costumes). On Saturday morning, decorated floats, bands and colorful costumes kick off the downtown festivities with a giant parade that twists through historic downtown Ennis. www.nationalpolkafestival.com
FIGHTING CANCER WITH GRIT: CLASSIC CAR, TRUCK & MOTOCYCLE SHOW
BILLY BOB'S TEXAS – BENEFITTING THE JOHN WAYNE CANCER FOUNDATION
2520 Rodeo Plaza
Fort Worth, TX 76164
Saturday, 9am - 3:30pm Entry fee $35
This event is going to be HUGE!!! With over 100 Awards, 13 BEST of Show Awards, Huge 50/50 Pot,Door Prizes and so much more going on. Special Thanks to all of our Sponsor's helping with this event, The featured Vehicle for this event is THE CORVETTES (all years) it a Contest So bring your BEST. Top 3 of ever year and your BEST of CLASS Award. Plus there will be your OVERALL BEST of SHOW. There are so many other categories for everyone. Camaro , Mustangs, Mopar, Jeep's, Motorcycles, Military, Rat-Rods, Low-Riders, Exotics/Imports , and then there will be 5 different categories for all CARS and same for TRUCKS. Coffee and Donuts during Registration from 9:00 a.m. to 11:00 a.m. Plenty of room for all the Trailers to Park. carcruisefinder.com
ZIP LINE DAYS
HEARD NATURAL SCIENCE MUSEUM & WILDLIFE SANCTUARY
1 Nature Place
McKinney, TX 75069
June 18, 9am-4pm Tickets vary $12–$16
During our Zip Line Days, guests climb a 23-ft. tree to our zip platform then proceed to a 487-ft. zip line. Purchase one ticket ($12 each) for each time you would like to travel down the zip line. Pre-registration is required. Individuals and small groups (comprised of nine or fewer persons) are welcome to participate in our pre-scheduled Zip Line Days (as available). Pre-reservations are required for these programs. The ropes course can be scheduled for custom programs for groups of ten or more persons. For all programs, please wear closed toed shoes, and appropriate clothing for the outdoors. www.heardmuseum.org/zipline-days
TEXAS LIBERTY FOREVER: THE BATTLE OF THE ALAMO
DALLAS HISTORICAL SOCIETY
3939 E Grand Ave.
Dallas, TX 75210
Through May 29, 10am-5pm FREE ADMISSION (tours available)
Created by Pennsylvania-based artist Thomas Feely, Jr. over 18 years and stretching across more than 336 square feet in size, the Texas Liberty Forever! diorama is the largest depiction of its kind and serves as the centerpiece of the Battle of the Alamo Exhibit at the Hall of State. The re-creation of the besieged Alamo compound features 2,000 hand-painted figures poised in battle, just as combatants were on the morning of March 6, 1836. Exquisite in detail! www.dallashistory.org/exhibitions
GRAND PRAIRIE FARMER'S MARKET
GRAND PRAIRIE FARMER'S MARKET
120 W Main Street
Grand Prairie, TX 75050
Through June 11th FREE ADMISSION
The Grand Prairie Farmers Market sells fresh fruits and vegetables as well as spices, candles, soaps, coffee, honey and an array of other items at Market Square in addition to monthly special events. Next date: Saturday, May 21, 2022 | 08:00 AM to 12:00 PM. www.gptx.org/Community-Calendar/Farmers-Market
Thanks for browsing our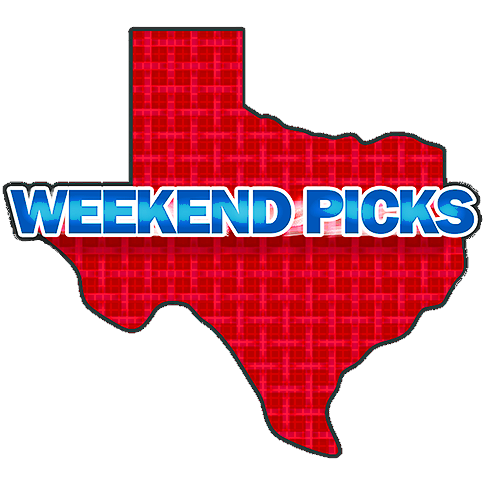 See you next weekend!
[TOP]
© COPYRIGHT 2022, ALL RIGHTS RESERVED. A SALEM MEDIA GROUP STATION.
---