Destination Spotlight - Las Vegas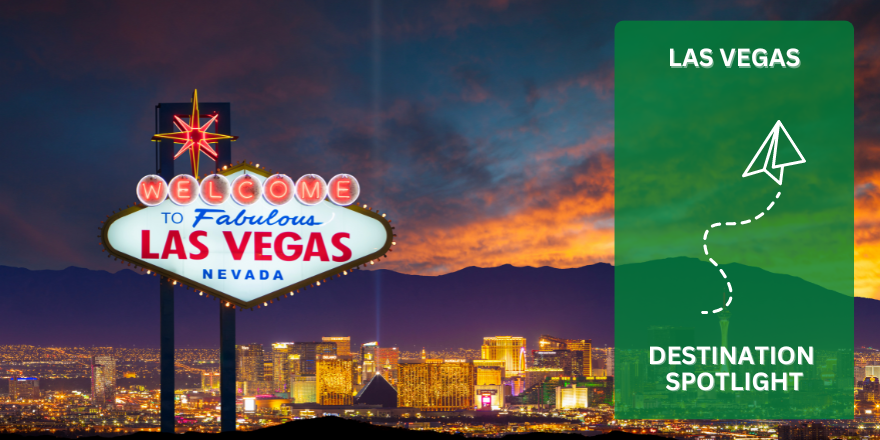 While there is still plenty of sin to go around in this once notorious spot for gamblers and rabble rousers alike, a lot has changed since those early days of Vegas. There are tried and true attractions to this hot spot but there are new ways to enjoy this desert oasis added every year. Here is a compendium of ways you and yours can spend a great time in one of the most exciting cities in the US of A. Keep in mind, it's next to impossible to include all of the gems you should add to your Vegas Bucket List but don't worry, there will be a link to an official Las Vegas tourism guide below! So, with that said, let's roll the dice and play!

Families
Where do we begin? Even when you attempt to tell someone a fraction of all the things you can do in Las Vegas as a family you begin to sound like a crazy person. That said, let's give it a shot. It's possible to start your day at New York, New York riding the Big Apple Coaster. Then you can walk through the Las Vegas: Shark Reef Aquarium and VR Experience. After that you can hop on a helicopter and within 45 minutes be hovering over the Grand Canyon. Then you can top the day off with a spectacular kid friendly meal at one of the largest and most immersive Rainforest Cafe's in the world. And that's just day one!

Peak Season
Like the best places to visit, it's basically ANYTIME. However, there is a certain buzz in the air during most gambling-centric events. Whether it's March Madness or the Super Bowl, Las Vegas positively hums with excitement when people from all over the world come to see and bet on the games.

Duration
Two to three days tops. There's a lot to do and we mean A LOT. There is such a thing as Vegas burnout and, while it's not the worst thing to come down with, it's best to avoid. Besides, Las Vegas is so well planned out, so well orchestrated, you really can do it all in a very short amount of time.

Lodging Options
Some folks may think staying at a casino/Hotel is a bad idea. Well, those folks are wrong. I'm telling you, the Aria is one of my favorite haunts. The Bellagio is like staying in a dream. But if you want the kids to have a grand old time you can't do better than New York New York or the MGM. I just can't resist that bronze statue of Leo the MGM Lion. Plus, it happens to be the largest bronze statue in the United States!