Destination Spotlight - Ocean City, NJ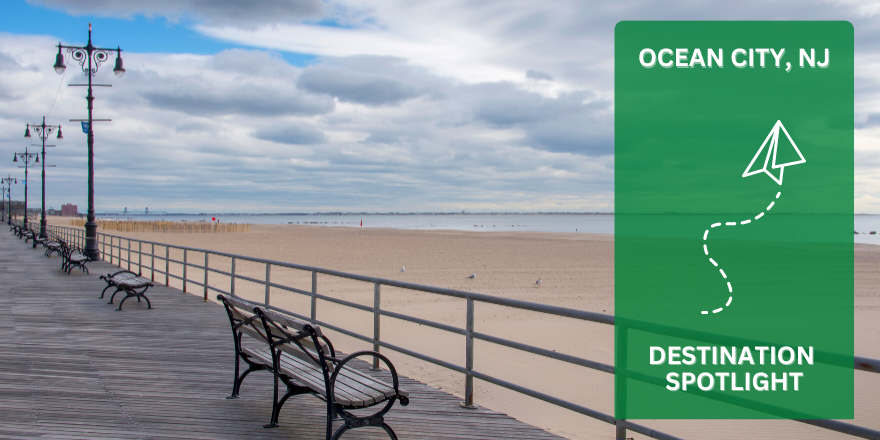 Overview
Embark on an unforgettable vacation to Ocean City, NJ, a coastal haven that promises a delightful escape filled with sun-soaked adventures and endless entertainment. Explore the renowned Ocean City boardwalk, a bustling promenade that offers a delightful mix of shops, eateries, and exciting attractions. Sink your toes into the soft sands of the Ocean City beach, basking in the warm rays of the sun and relishing the refreshing ocean breeze. Discover a range of comfortable Ocean City hotels, providing a welcoming retreat after a day of exploration. Indulge in the delectable flavors of Ocean City's vibrant restaurant scene, where you can savor fresh seafood and diverse cuisines. Uncover the charm of Ocean City's attractions, from amusement parks to historic sites, catering to all ages and interests. Immerse yourself in the vibrant events that dot the calendar, from festivals to concerts, adding a touch of excitement to your Ocean City vacation. Consider Ocean City rentals for a home-away-from-home experience, allowing you to fully immerse yourself in the coastal lifestyle. Engage in a variety of activities, such as boating, fishing, biking, and more, ensuring there's never a dull moment during your Ocean City getaway. With its captivating blend of beautiful beaches, inviting accommodations, delectable dining, and a wealth of attractions and events, Ocean City, NJ, offers the perfect backdrop for a memorable vacation that will leave you yearning for more.

Weather
Ocean City, NJ boasts a pleasant year-round climate that attracts visitors throughout all seasons. With warm summers and mild winters, this coastal town offers a comfortable and enjoyable environment for outdoor activities. During the summer months, temperatures range from the high 70s to low 80s Fahrenheit (around 25-30 degrees Celsius), creating the perfect conditions for beachgoers to soak up the sun and enjoy the refreshing ocean breeze. Fall brings cooler temperatures, with highs in the 60s to 70s Fahrenheit (15-25 degrees Celsius), making it an ideal time for scenic walks along the beach and exploring the town's charming streets. Winter in Ocean City brings milder conditions compared to other parts of the country, with temperatures ranging from the 40s to 50s Fahrenheit (5-15 degrees Celsius). Although cooler, it still offers opportunities for invigorating walks on the beach or enjoying indoor attractions. Spring brings a sense of renewal, with temperatures gradually rising into the 50s to 60s Fahrenheit (10-20 degrees Celsius), allowing visitors to enjoy the blossoming flora and outdoor activities. Whether you're seeking a summer beach vacation or a peaceful winter retreat, Ocean City, NJ offers a year-round climate that caters to a variety of preferences and interests.

Transportation
Getting to and around Ocean City, NJ is convenient and straightforward, whether you choose to drive or utilize other transportation options. If you're arriving by car, Ocean City is easily accessible via major highways, such as the Garden State Parkway. There are also several parking options available in the town, making it convenient to explore the area at your own pace. However, if you prefer not to drive, there are alternative transportation options. The Atlantic City International Airport is located approximately 20 miles away, offering domestic flights for those who prefer to fly.
Additionally, public transportation, such as buses and shuttles, provides access to Ocean City from nearby cities and airports.
Once you're in Ocean City, the town is relatively compact, and many attractions, restaurants, and accommodations are within walking or biking distance. The Ocean City Boardwalk, in particular, is pedestrian-friendly and a popular way to explore the area. Overall, while having a car can provide flexibility, it is not necessary to enjoy and navigate Ocean City, as there are various transportation options available to suit different preferences and needs.

Lodging
Ocean City, NJ offers a wide range of lodging options to cater to the preferences and needs of its visitors. With numerous hotels and beach rentals available, you can find the perfect accommodation for your stay. Hotels in Ocean City provide comfortable rooms and amenities, accommodating both solo travelers and families. Many hotels offer ocean views and proximity to the beach, making them a popular choice for visitors. On the other hand, beach rentals offer the flexibility of larger spaces, including condos, apartments, and vacation homes. These rentals often provide fully equipped kitchens and additional amenities, making them ideal for families or groups traveling together. According to statistics, a significant number of visitors opt for beach rentals, with approximately 45% of tourists choosing this type of accommodation, while the remaining 55% stay in hotels. Whether you prefer the convenience and services of hotels or the flexibility of beach rentals, Ocean City, NJ ensures a variety of lodging options to suit your preferences and create a memorable stay.

Attractions
Ocean City, NJ offers an array of popular activities that ensure a memorable and enjoyable experience for visitors of all ages. Start your adventure by exploring the iconic Ocean City boardwalk, where you can indulge in delicious treats, shop for souvenirs, and experience the thrill of amusement rides and games. Spend sun-kissed days at the pristine Ocean City beach, building sandcastles, swimming in crystal-clear waters, or simply relaxing under colorful umbrellas. Discover the town's vibrant restaurant scene, where you can savor fresh seafood, dine with ocean views, and sample a variety of cuisines. Engage in outdoor activities like biking along the boardwalk, paddleboarding, kayaking, or fishing in the coastal waters. Immerse yourself in Ocean City's rich history by visiting the Ocean City Historical Museum or exploring the historic Ocean City Music Pier. Attend exciting events and festivals that take place throughout the year, showcasing live music, arts, crafts, and local culture. With its blend of beachside attractions, thrilling activities, delectable dining, and cultural offerings, Ocean City, NJ ensures that there's always something popular and exciting to do, creating cherished memories for all who visit.

Dining
Ocean City, NJ is a culinary haven, offering a diverse range of dining options to satisfy every palate. From fresh seafood to international cuisines, this coastal town has something for everyone. Start your day with a delicious breakfast at one of the charming seaside cafes, serving up delectable pastries and hearty breakfast platters. For lunch, indulge in mouthwatering seafood dishes at the waterfront restaurants, where you can savor the catch of the day or indulge in classic favorites like crab cakes and shrimp scampi. As the sun sets, Ocean City comes alive with a vibrant dining scene. Don't forget to leave room for dessert, as Ocean City boasts delightful ice cream parlors and sweet shops where you can treat yourself to homemade treats and refreshing gelato.
Here are three highly regarded seafood restaurants in Ocean City:
Hank's Sauce & Seafood
Hank's Sauce & Seafood is a local favorite known for its fresh and flavorful seafood dishes. Located on Asbury Avenue, this casual yet welcoming eatery serves up a variety of seafood options, including crab cakes, shrimp scampi, fried oysters, and fish tacos. With its laid-back atmosphere and emphasis on quality ingredients, Hank's Sauce & Seafood is a must-visit for seafood enthusiasts.
Spadafora's Seafood Market & Clam Bar
For a taste of Ocean City's finest seafood, head to Spadafora's Seafood Market & Clam Bar. Located on West Avenue, this family-owned establishment offers a combination of a seafood market and a restaurant. You can dine in and enjoy their mouthwatering dishes such as lobster rolls, clam chowder, crab legs, and fresh raw oysters. With an emphasis on locally sourced ingredients, Spadafora's ensures a delightful seafood experience.
Mike's Seafood
Mike's Seafood is another popular seafood destination in Ocean City. Situated on the Boardwalk, this seafood restaurant offers picturesque ocean views while you savor their delectable dishes. Known for their seafood platters, steamers, and stuffed flounder, Mike's Seafood delivers a memorable dining experience with its friendly service and fresh flavors.
These are just a few examples of the highly regarded seafood restaurants in Ocean City, NJ. Each of them showcases the town's commitment to quality seafood and ensures a satisfying dining experience for seafood enthusiasts.

Ocean City FAQs
Q: Is Ocean City, NJ worth visiting?
A: Absolutely! Ocean City, NJ is definitely worth visiting. With its beautiful beaches, vibrant boardwalk, range of attractions, and family-friendly atmosphere, it offers a delightful coastal getaway for all. Whether you're seeking relaxation, outdoor activities, or delicious dining experiences, Ocean City has something to offer.
Q: Which is nicer, Ocean City, MD, or NJ?
A: The answer to this question depends on personal preference. Both Ocean City, MD, and Ocean City, NJ, have their own unique charm and attractions. Ocean City, NJ, is known for its pristine beaches, lively boardwalk, and family-oriented atmosphere. On the other hand, Ocean City, MD, offers a vibrant nightlife, a wide range of dining options, and a lively atmosphere. It's best to consider your specific interests and preferences when deciding which destination suits you better.
Q: What is the best neighborhood in Ocean City, NJ?
A: Ocean City, NJ has several charming neighborhoods, each with its own appeal. The "Gold Coast" neighborhood, located along the beachfront, is highly regarded for its upscale homes, stunning ocean views, and proximity to the beach. The "Gardens" neighborhood, situated towards the southern end, offers a quieter and more residential atmosphere, with beautiful homes and tree-lined streets. Ultimately, the best neighborhood depends on your preferences, whether you seek proximity to the beach, a bustling atmosphere, or a quieter residential setting.
Q: What is Ocean City, NJ known for?
A: Ocean City, NJ is known for its beautiful beaches, lively boardwalk, and family-friendly atmosphere. The pristine sandy shores and clear waters attract beach lovers from near and far. The Ocean City boardwalk is famous for its amusement rides, shops, eateries, and entertainment options. The town is also known for its vibrant events, such as festivals and concerts, which draw visitors throughout the year. Additionally, Ocean City, NJ is recognized for its welcoming community and safe environment, making it a preferred destination for families.
Q: Is Ocean City, NJ safe?
A: Yes, Ocean City, NJ is known for being a safe and family-friendly destination. The town takes pride in maintaining a secure environment for residents and visitors alike. Ocean City has a dedicated police force that actively ensures the safety and well-being of the community. However, as with any destination, it's always advisable to take basic safety precautions and be aware of your surroundings.